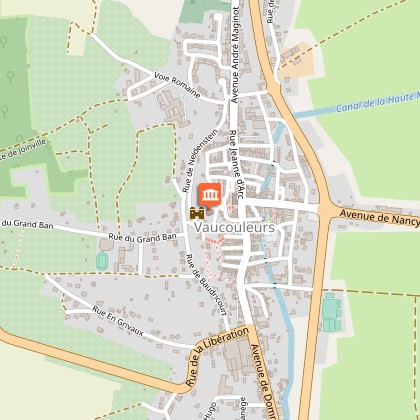 PORTE DE FRANCE ET CHAPELLE CASTRALE
It was from these historic locations overlooking the town that Joan of Arc set off to accomplish her mission, passing through the France Gate on 23 February 1429. In the chapel crypt, there is a statue of the Virgin Mary (Notre Dame des Voûtes) to which Joan would pray.
Visits permitted outside normal opening periods: €2/pers.

2 shows, "Joan of Arc, An Exceptional Destiny":
- In the crypt: museographic performance lasting approx. 20 mins. Adult = €3. Child (under 12 years) = €1.50. Groups (15+ people) = €2.
- On the France Gate (Porte de France): sound and light show every Friday evening during the summer. Adult = €7. Contact the tourist office for details.
Infos techniques
55140 VAUCOULEURS
Lat : 48.6022489
Lng : 5.6645525
2 informations complémentaires
Contact
Tel : 03 29 89 51 82
Email : tourisme.cc-cvv@orange.fr

Producteur de la donnée
Ces informations sont issues de la plateforme SITLOR - Système d'Information Touristique - Lorraine
Elles sont synchronisées dans le cadre du partenariat entre Cirkwi, l'Agence régionale du Tourisme Grand Est et les membres du comité technique de Sitlor.