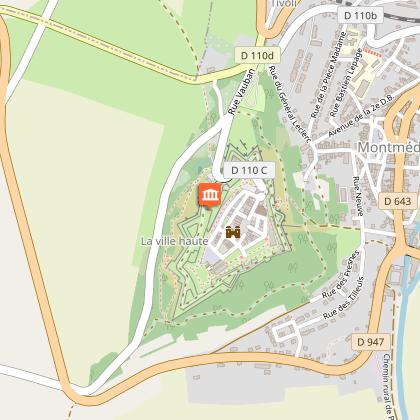 Come and explore the citadel in Montmédy. See the museum (musée de la fortification), the Jules Bastien-Lepage museum and the parapet walkway, a signposted walk some 1 km long providing a panoramic view of the surrounding countryside. Find out about the citadel's history through information panels, videos and quizzes. Children can find out more about fortifications through a booklet and game. In July and August, torchlight visits give a different view of the citadel!

Musée de la fortification: The aim of the museum is to highlight the richness, diversity and fascinating features of military architecture in Meuse, from the area's earliest days to the late 18th century. There are models of systems of defence, old weaponry, aerial views of fortified sites in Meuse etc.

The Musée Jules Bastien-Lepage turns the spotlight on the work of the Realist portrait artist born in Damvillers, not far from Montmédy, in the 19th century. Come and see the chronological frieze of the artist's life, a few of his early drawings and a series of paintings (portraits or scenes of country life). An interactive terminal rounds off the visit and shows where you can see most of the artist's works.
Infos techniques
2 Rue de l'Hôtel de Ville Citadelle - ville haute
55600 MONTMEDY
Lat : 49.5176655
Lng : 5.3593969