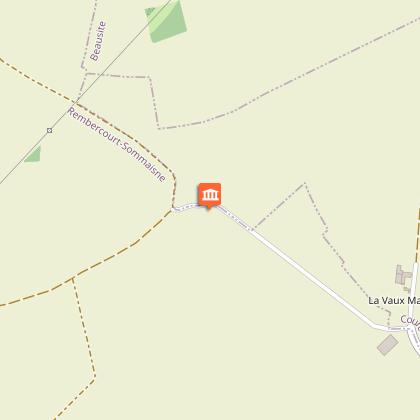 MONUMENTS DE LA BATAILLE DE VAUX MARIE
Stages 9 to 13 of the circuit "In the footsteps of Ceux de 14".

The monument on the battlefield of Vaux-Marie bears witness to the battles which took place in the territory of Rembercourt-Sommaisne from September 7 to 10, 1914. These battles were part of the first battle of the Marne, during which the 5th German army, commanded by the Imperial Kronprinz, seeks to surround the stronghold of Verdun. Maurice Genevoix, French side, and Erwin Rommel, German side, participated. After having conquered Sommaisne and Vaubécourt, the Germans wanted to seize Rembercourt-aux-Pots, but were never able to reach this village. They therefore tried everything by launching a major offensive on the night of September 9 to 10. Under a stormy rain and in almost total darkness, French and German soldiers fought, sometimes hand-to-hand, on this front. The battle was fierce and the losses heavy on both sides. Despite the withdrawal of several units, the French troops contributed, through their resistance, to defeating this German attack which forced the army of the Kronprinz to retreat towards the Argonne.

The monument of the battlefield of Vaux-Marie is the work of a survivor of these fights: Pol Jolibois. He fought in the ranks of the 29th BCP and was wounded in the night attack. If he was able to survive, his battalion lost half of its troops at Vaux-Marie. Refusing that the battle of Vaux-Marie and the sacrifice of his brothers in arms of the 29th BCP fell into oblivion, he wrote a first book, "The valley of the Ezrule", of which the this profit enabled him to finance the commemorative plaque, inaugurated in 1927 and reinstalled in 1950 on a stele made of stones collected on the battlefield.

This site is not an ordinary place, it is a battlefield, it deserves your respect.
Infos techniques
55250 REMBERCOURT SOMMAISNE
Lat : 48.9335587
Lng : 5.1971176