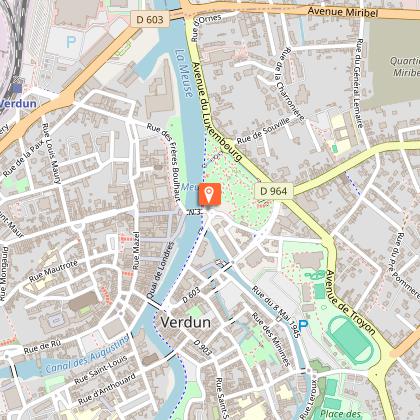 WAR MEMORIAL OF THE CITIZENS OF VERDUN WHO DIED IN BOTH WORLD WARS
Erected in 1928, the War Memorial dedicated to the Citizens of Verdun is built inside the La Chaussée demi-lune, part of the fortifications constructed by Marshal Vauban in the 17th Century. The Memorial occupies the site of the former military slaughter-house destroyed in 1916. The statues represent the five arms of service of the French Army engaged in the battle of 1916. From left to right we can make out: a cavalryman, an Engineer sapper, an infantryman, also known as a "poilu", an artilleryman and a reservist. These five soldiers form a human wall symbolising the motto of the City: "They will not pass". On the base of the monument are inscribed the names of the soldiers from Verdun who died in the First and Second World Wars.

See also: A statue of General Sarrail facing the monument, and a bust of General Mangin fixed on the rampart wall to the right.

NOTE : The patriotic calendar of Verdun is well-filled, and among others, the commemoration ceremonies of 1st and 11th November take place in front of this monument.
Infos techniques
Avenue du Général Mangin
55100 VERDUN
Lat : 49.1620631
Lng : 5.3877665