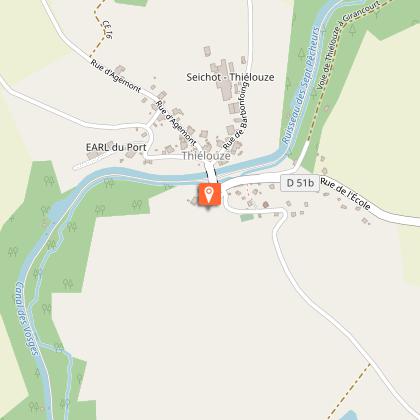 The Chapel of the Annunciation of Thiélouze in Uzemain
Overlooking the Vosges canal, in a peaceful setting, the chapel opens every day for free tours. This multi-secular building from the end of the 13th century was restored in 2016 and houses a dozen of remarkable religious objects, eight of which are listed or classified as historical monuments.

Dedicated to Notre-Dame de l'Annonciation, the chapel has a simple and mixed architecture. Its entrance portal is Norman. The Marian devotion has always been important, as confirms the presence of a 14th century limestone statue of the Madonna and Child and a bell from 1504. One of the most successful sculptures in the world inspired the "three hares" motif which appears on a stone of the façade.
A brotherhood of more than 600 members happily embody the everlasting feeling of attachment from the residents to this important religious and heritage site.
The interior of the chapel calls for meditation. The mural colours and the celestial light brought in by 3 double-glazed windows invite you to calm down. The observation of the religious objects in lime wood or oak judiciously exposed (Madonna and child, Sainte-Anne, Saint-Nicolas and Christ on the cross) and the contemplation of the painting of the Annunciation by Nicolas Bellot lead to wonder.
Technical information
Thiélouze
88220 UZEMAIN
Lat : 48.1069749
Lng : 6.3225521