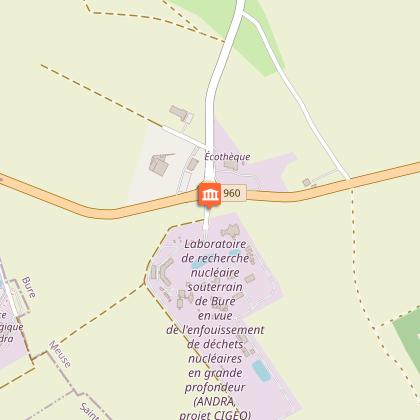 ANDRA LABORATOIRE, ESPACE TECHNOLOGIQUE ET ECOTHEQUE
The job of the Agence nationale pour la gestion des déchets radioactifs (Andra, national agency for the management of radioactive waste) is to design and install an industrial geological storage facility for radioactive waste at a depth of 500 metres in clay rock.
On the site of the underground facility, you can see a model of a storage gallery and find out about the scientific tests conducted on the rock.
In the technology gallery, see prototypes of machinery illustrating the principles of deep geological storage. The visit lasts from 2 to 2½ hours.
Infos techniques
RD 960
55290 BURE
Lat : 48.4872783
Lng : 5.3556312
2 informations complémentaires
Contact
Tel : 03 29 75 53 73
Email : visite.55.52@andra.fr
Site web : meusehautemarne.andra.fr

Producteur de la donnée
Ces informations sont issues de la plateforme SITLOR - Système d'Information Touristique - Lorraine
Elles sont synchronisées dans le cadre du partenariat entre Cirkwi, l'Agence régionale du Tourisme Grand Est et les membres du comité technique de Sitlor.