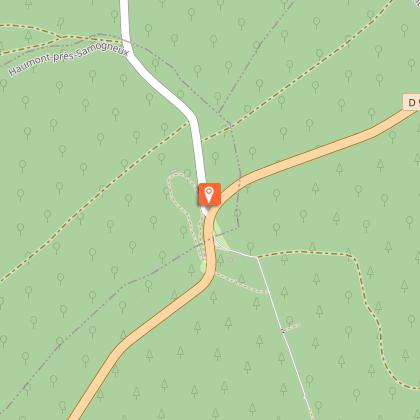 It is clear that the Bois des Caures and the name of Driant will forever be linked. Situated between the villages of Flabas and Ville-devant-Chaumont, the Bois des Caures is considered to be the site of the very first clash of the Battle of Verdun, and thus it should be the first stop on any tourist itinerary.
Under the avalanche of fire of 21 February 1916, the 1,300 Chasseurs commanded by Lieutenant-Colonel Driant would defend the woods to the very last. Held to be elite troops, these fearless fighters proudly wore the hunting horn, which they had carried since the Battle of Sidi-Brahm back in 1845. In the first line trenches in the Bois des Caures walked an officer in his sixties, a father figure passing serenely among the men who gave him almost a cult following. One must admit that a career such as Emile Driant's won him a great deal of respect. Qualifying fourth in his year at Saint-Cyr in 1877, he had served in the infantry, then the fortifications, before moving to North Africa, where he won the hand of the daughter of a certain General Boulanger, at the time Governor of Tunisia.

Sometime man of letters, he wrote under the pseudonym of "Danrit". Despite his literary successes, his strong right-wing Catholic views brought attacks from the anticlerical movement, in the turbulent years which would lead to the law bringing about the separation of Church and State. Having fallen from official favour, Driant returned to the Colours with the outbreak of war, to defend his country against the invaders. Continually complaining about the state of unpreparedness which reigned in Verdun, he declared his concerns in the Chamber of Deputies as a member of Parliament, but all in vain. He would die, surrounded by his Blue Devils, on 22 February 1916, ironically one of the very few French officers to anticipate that the enemy was about to strike a major blow at Verdun.
Infos techniques
55100 BEAUMONT EN VERDUNOIS
Lat : 49.2730503
Lng : 5.4056771