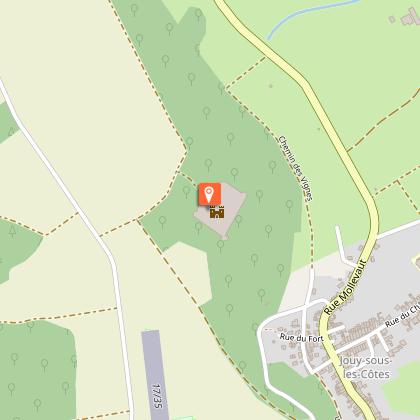 Fort Jouy, which is located between Toul and Verdun, was built between 1883 and 1885. It is a Séré de Rivières fort built entirely of freestone and it has never been modernised. It is pentagonal in shape, with 4 courtyards and a moat defended by 4 caponiers, one of them double. The fort still has its original entrance, drawbridge and armoured gate.
Infos techniques
55200 GEVILLE
Lat : 48.775224
Lng : 5.686769
2 informations complémentaires
Contact
Tel : 03 29 92 08 87
Email : fortdejouy@gmail.com

Producteur de la donnée
Ces informations sont issues de la plateforme SITLOR - Système d'Information Touristique - Lorraine
Elles sont synchronisées dans le cadre du partenariat entre Cirkwi, l'Agence régionale du Tourisme Grand Est et les membres du comité technique de Sitlor.