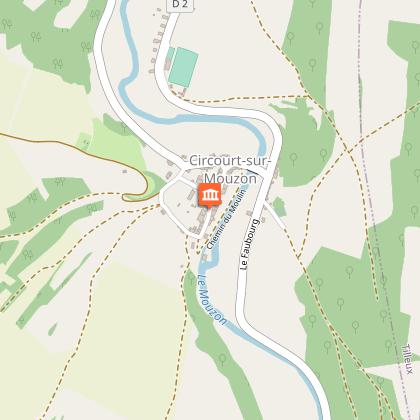 THE VILLAGE OF CIRCOURT-SUR-MOUZON
Discover the valley from the cliffs and take a look at the caves dug out of the rock along the banks of the Mouzon. Further, the chalky grassland hosts rare species of the fauna and flora such as orchids and butterflies which allowed the village to be classified among the best sites of Lorraine. Most of the 150 hectares of forest have been classified Natura 2000.
The village is a rich natural site with the 10th century choir of the church, its three ordeals and no less than eleven bridges.
Infos techniques
88300 CIRCOURT SUR MOUZON
Lat : 48.2965212
Lng : 5.7090101
2 informations complémentaires
Contact
Tel : 03 29 94 72 18
Email : mairiecircourtmouzon@orange.fr

Producteur de la donnée
Ces informations sont issues de la plateforme SITLOR - Système d'Information Touristique - Lorraine
Elles sont synchronisées dans le cadre du partenariat entre Cirkwi, l'Agence régionale du Tourisme Grand Est et les membres du comité technique de Sitlor.