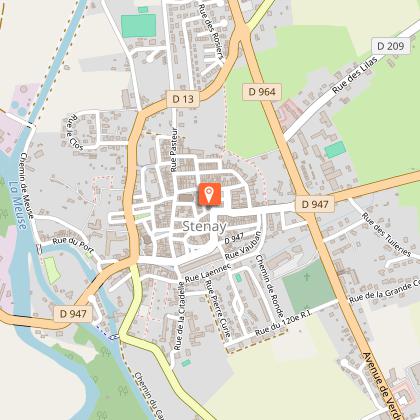 The crypt contains the doorway to St. Dagobert's Church (9th - 12th centuries), the mysterious Stenay stone and a memorial to the lost king.
In the St. Dagobert Room, there is a permanent exhibition of Merovingian history and archaeology and items reflecting the history and legends of St. Dagobert II.
A Merovingian documentation centre is open to researchers and anybody interested in the subject.
Infos techniques
3 Place Raymond Poincaré
55700 STENAY
Lat : 49.492075
Lng : 5.1886133
2 informations complémentaires
Contact
Tel : 03 29 80 48 04
Email : cerclesaintdagobert@wanadoo.fr

Producteur de la donnée
Ces informations sont issues de la plateforme SITLOR - Système d'Information Touristique - Lorraine
Elles sont synchronisées dans le cadre du partenariat entre Cirkwi, l'Agence régionale du Tourisme Grand Est et les membres du comité technique de Sitlor.