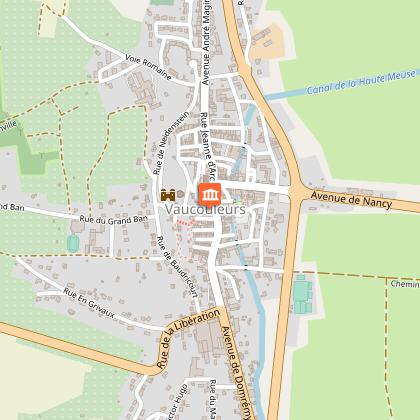 This museum is entirely dedicated to pictures of Joan of Arc, the warrior virgin and martyr whose tragic fate has continued to inspire writers, artists and historians for more than two hundred years. A visit to the museum is the first stage in a tour of the town's heritage sites including those related to the Joan of Arc story (France Gate and the crypt in the castle chapel).

There are 2 possible tours for individual visitors:
- guided tour of the museum and Town Hall
- visit to the museum, without a guide.

For groups: guided tour of the museum, Town Hall and locations linked to Joan or Arc. Film in the crypt. Allow 2 hrs.

School groups can combine tours and workshops (stained-glass windows, games, weapons and helmets, fortresses etc.) with a treasure hunt. Full-day or half-day visit.
Infos techniques
Place Achille François
55140 VAUCOULEURS
Lat : 48.6017239
Lng : 5.665797
2 informations complémentaires
Contact
Tel : 03 29 89 51 82
Email : tourisme.cc-cvv@orange.fr

Producteur de la donnée
Ces informations sont issues de la plateforme SITLOR - Système d'Information Touristique - Lorraine
Elles sont synchronisées dans le cadre du partenariat entre Cirkwi, l'Agence régionale du Tourisme Grand Est et les membres du comité technique de Sitlor.