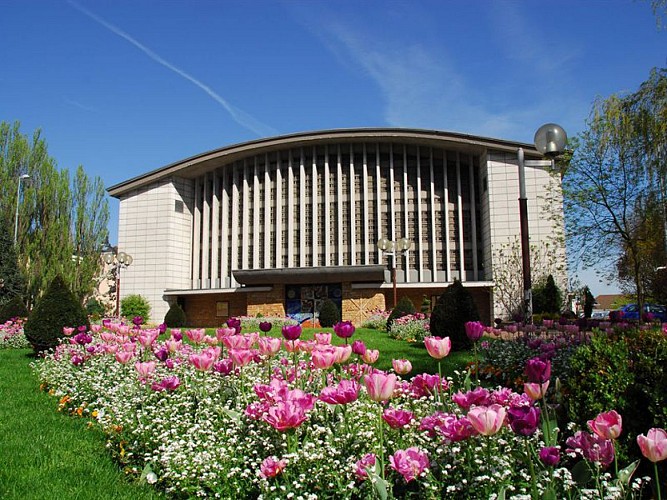 NOTRE-DAME-AU-CIERGE CHURCH
Credit : Eglise Notre-Dame-au-Cierge
A contemporary church combining concrete and glass, and 180 m2 of magnificent stained glass windows are not to be missed! Once through the gate, a soft coloured light reveals bold lines, in an airy atmosphere that favours meditation.
Don't be confused by its very contemporary exterior and concrete structure... because Notre-Dame-au-Cierge reconciles us with "modern art" as soon as we enter the enamel portal! This impressive place of light leaves no visitor indifferent: spirituality is bursting here through a festival of colours, thanks to the side panels made of paving stones where blue and red dominate. The dazzling stained glass window, the work of master glass artist Gabriel Loire, is the largest figurative stained glass window in France. It pictures the life of the Virgin.
Built between 1956 and 1958 after the bombing of the station district in 1944, this church is the symbol of the reconstruction of Epinal. The building is visited a lot and has been listed since 2014. The general architectural, with its sober and pure lines, reveals its palette of colours all the better when you visit it on a sunny day! As you walk through the busy town, you emerge calm and at peace...
Technical information
Avenue Maréchal de Lattre de Tassigny
88000 EPINAL
Lat : 48.1772723
Lng : 6.4442533