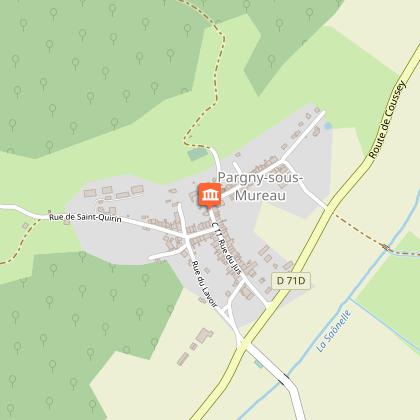 LES VESTIGES DE L'ABBAYE SAINTE-MARIE DE MUREAU
The village of Pargny-sous-Mureau occupies the Saônelle valley. Your discovery of the place will begin with the 19th century church of Saint Martin and the chapel of Saint Quinin. If you follow the pond, you will find the site of the former Abbaye des Prémontrés of the 12th century.
Infos techniques
6 rue du Jus
88350 PARGNY SOUS MUREAU
Lat : 48.3677026
Lng : 5.6038532
2 informations complémentaires
Contact
Tel : 03 29 06 73 05
Email : mairiepargny88@orange.fr

Producteur de la donnée
Ces informations sont issues de la plateforme SITLOR - Système d'Information Touristique - Lorraine
Elles sont synchronisées dans le cadre du partenariat entre Cirkwi, l'Agence régionale du Tourisme Grand Est et les membres du comité technique de Sitlor.