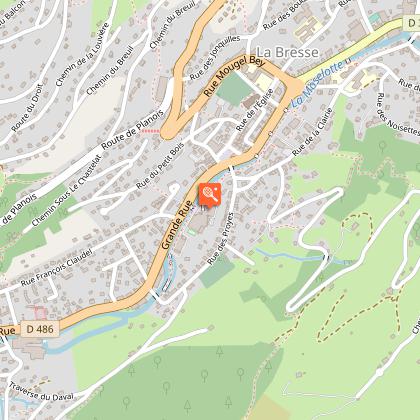 There are in La Bresse : 2 indoor courts at the swimmingpool complex and 2 outdoor courts in La Vertbruche (the way to the Lac des Corbeaux). Booking in the swimming pool for the indoor courts and in the Tourist Office for the outdoor courts. Item (rackets and balls aren't furnished). Indoor courts are only open during the swimmingpool's opening hours. During the summer holidays, access to the outdoor tennis courts is free for the owners of the Pack Leisure activities for the family.
Infos techniques
Au Complexe Piscine-Loisirs
88250 LA BRESSE
Lat : 48.0020982
Lng : 6.8733859
2 informations complémentaires
Contact
Tel : 03 29 26 21 20
Email : piscine@labresse.fr

Producteur de la donnée
Ces informations sont issues de la plateforme SITLOR - Système d'Information Touristique - Lorraine
Elles sont synchronisées dans le cadre du partenariat entre Cirkwi, l'Agence régionale du Tourisme Grand Est et les membres du comité technique de Sitlor.