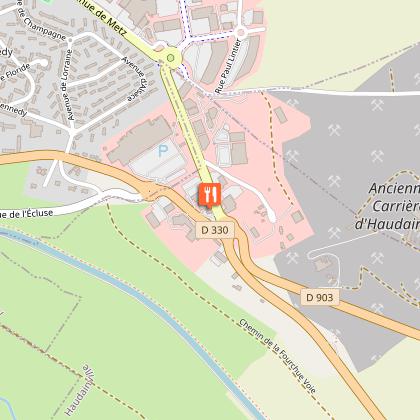 Breathtaking view of the Meuse Valley. 2 air-conditioned restaurants. "Meuse et Merveilles" produce and products.
Specialties: Lorraine pâtés, home-made foie gras, fricassée of snail and chanterelles, home-minced steak tartare, prawns flambéed in whisky, sauerkraut with seafood, dessert trolley, Lorraine profiteroles etc.
"Local Fare" menu €20, tasting plate €12.
Restaurant located 300 metres from the sound and light show, "From Flames... to Light" (June and July).
5 mins from the A4 Metz-Strasbourg motorway. 10 mins from the A4 Paris motorway. Car park with 50 spaces.
Infos techniques
1 Boulevard Jean Monnet Carrefour de l'Europe
55100 VERDUN
Lat : 49.1410286
Lng : 5.4100049
2 informations complémentaires
Contact
Tel : 03 29 74 85 46
Email : lagargote@orange.fr

Producteur de la donnée
Ces informations sont issues de la plateforme SITLOR - Système d'Information Touristique - Lorraine
Elles sont synchronisées dans le cadre du partenariat entre Cirkwi, l'Agence régionale du Tourisme Grand Est et les membres du comité technique de Sitlor.