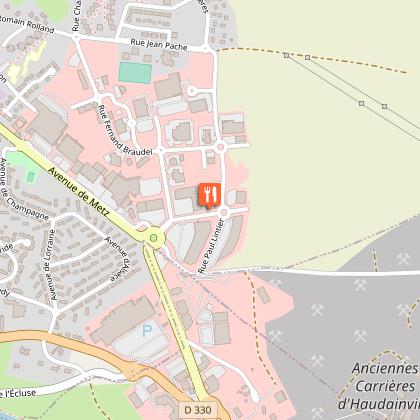 RESTAURANT PIZZERIA SIGNORIZZA
A restaurant and grillroom 4 km from the town centre, in the Actipole shopping mall on the road to Nancy and Metz. Close to the quarry in Haudainville (summer spectacular "From Flames... to Light").
Enjoy the convivial decor and the French cuisine with the accent on local and traditional produce. All-you-can-eat buffet.
Infos techniques
1 Rue Jacques Meyer ZAC Actipôle Verdun Sud
55100 VERDUN
Lat : 49.1460854
Lng : 5.4107451
2 informations complémentaires
Contact
Tel : 03 29 83 51 32
Email : restaurantpoivrerouge@orange.fr

Producteur de la donnée
Ces informations sont issues de la plateforme SITLOR - Système d'Information Touristique - Lorraine
Elles sont synchronisées dans le cadre du partenariat entre Cirkwi, l'Agence régionale du Tourisme Grand Est et les membres du comité technique de Sitlor.