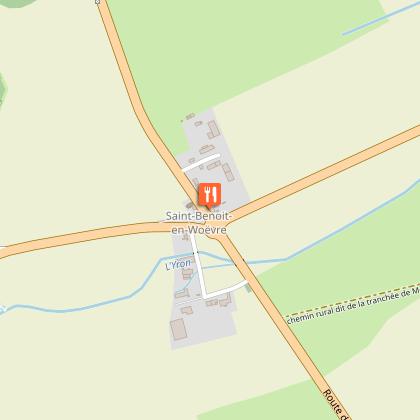 RESTAURANT LE RENDEZ-VOUS DES SAVEURS
Located in the heart of the Lorraine regional country park, downhill from the Côtes de Meuse vineyards and close to Lake Madine and Chambley Planet Air. This is the place to come for fabulous flavours.
You'll be warmly welcomed in surroundings filled with a sense of joie de vivre. The owners show their understanding of the natural environment and their love of gardening. They also prepare mouthwatering, innovative dishes that are full of elegant, powerful flavours.
Or you can simply come and sip a glass of Meuse wine while you enjoy a plate of nibbles, cheese from the neighbouring goat farm and a good slice of bread made on the premises by the chef.
Infos techniques
2 Rue de Verdun
55210 SAINT BENOIT EN WOEVRE
Lat : 48.986223
Lng : 5.784473
2 informations complémentaires
Contact
Tel : 07 88 37 93 37
Email : resto.saintbenoit@wanadoo.fr

Producteur de la donnée
Ces informations sont issues de la plateforme SITLOR - Système d'Information Touristique - Lorraine
Elles sont synchronisées dans le cadre du partenariat entre Cirkwi, l'Agence régionale du Tourisme Grand Est et les membres du comité technique de Sitlor.