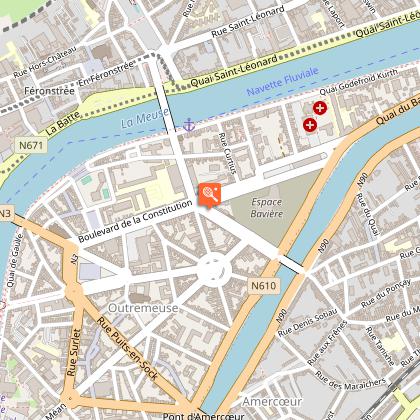 In Simenon Footsteps - Bavière Chapel
The former Bavière hospital chapel where young Georges was an altar boy.

"The mass for which
I was altar boy at the hospital
chapel took place at six o'clock
in the morning, in daylight, even bright
sunshine in the summer, but in almost total
darkness in winter. I have to admit I ran there
and back, keeping to the middle of the street,
afraid of the shadows and porches, to reach the
tiny yellow lantern, disproportionally small compared
to the large hospital entrance. When I arrived out of breath,
I finally felt safe and, after having greeted the old caretaker,
I headed towards the chapel"
[Georges Simenon,
Je suis resté un enfant de choeur, 1979].
Infos techniques
3 Rue des Bonnes Villes
4020 Liège
Lat : 50.64363
Lng : 5.58765
0 m