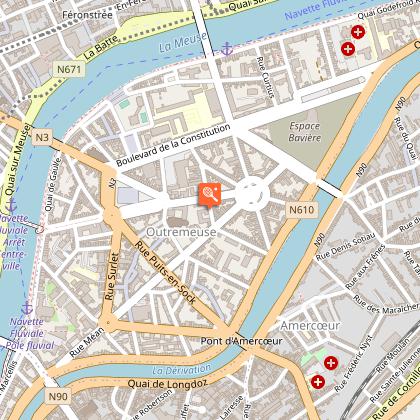 In Simenon Footsteps - Rue de la Loi
No. 48: the primary school attended by the young Georges.

"In class, taught by the friars of the church schools,
I was the teacher's pet. For example, I had the great honour of being
responsible for the stove which I loaded with wood every half hour or every hour.
I was also in charge of the bell, which I used to announce the time for prayers
in all the classes."
[Georges Simenon, Un Homme comme un autre, 1975].

No. 53: the second home of the Simenon family in Outremeuse. Georges' mother
sub-let rooms to university students who sometimes came from Central or Eastern
Europe.

"All the household's life was focused on the kitchen,
where the tenants themselves came to eat before us. There was always
a strong smell of soup and stewing dishes. There was so much steam in the air that
it stuck to the windows and walls painted in pale green, down which it zigzagged."
[Georges Simenon, Destinées, 1981].
Infos techniques
41-57 Rue de la Loi
4020 Liège
Lat : 50.64156
Lng : 5.58604
0 m