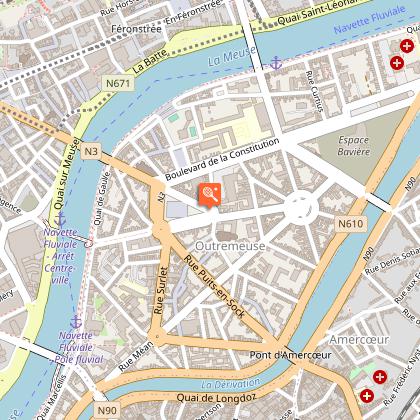 In Simenons' footsteps - Place de l'Yser
Simenon experienced the square's foundation when it was called Place de Bavière and used as a battlefield by gangs of youths from two rival Parishes. It was on the border between Saint-Pholien and Saint-Nicolas. Such parochial attitudes can be explained by the location of two former craftsmen's brotherhoods: the tanners of Saint-Pholien and the weavers of Saint-Nicolas. Some streets belonged, on one side, to
one of the parishes, and on the other to the enemy parish.

" I say enemy parish because, for the kids we were then, they were a very considerable barrier. It was dangerous for a kid from Saint Nicolas to venture alone into Saint-Pholien, because there was the risk of being hit by stones or even being beaten up. [Georges Simenon, Vent du nord vent du sud, 1976]."

Every second Sunday, the young Georges went there to watch his father Désiré conducting exercises with the civil guard, the 'Sunday soldiers'. The novelist's father could hardly have imagined that his eldest son would enjoy a triumphant welcome at this square on his return to Liège in May 1952.
Infos techniques
10 Rue Ernest Bavière
4020 Liège
Lat : 50.64195
Lng : 5.58391
0 m