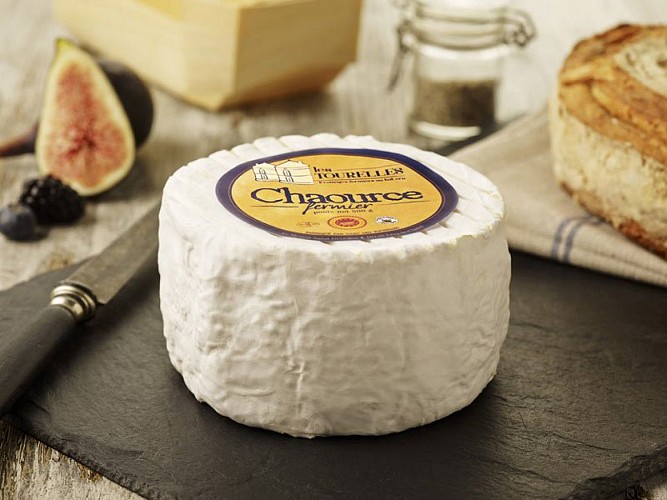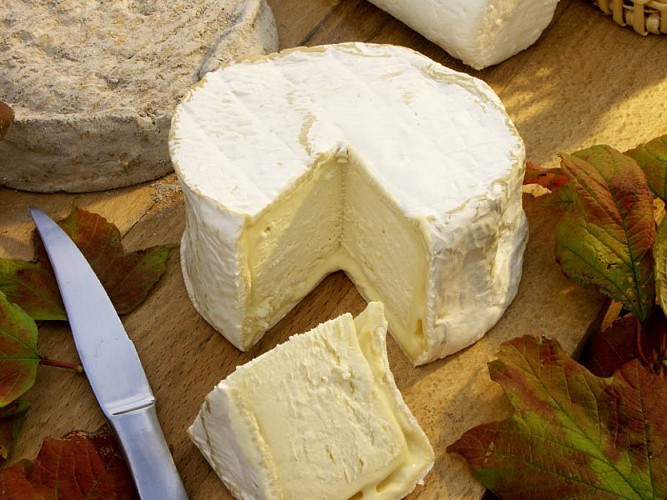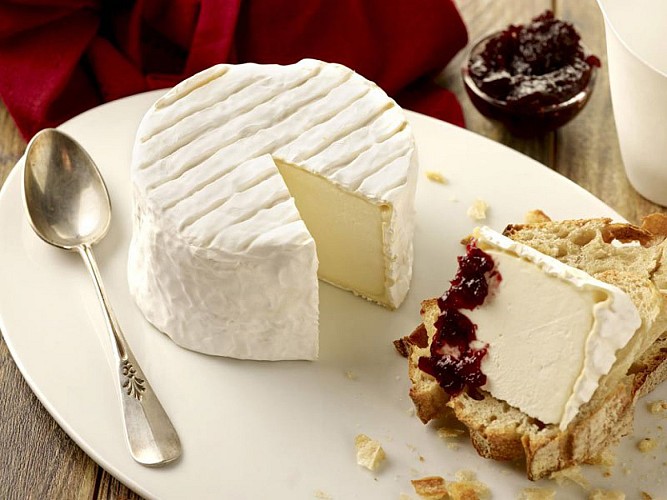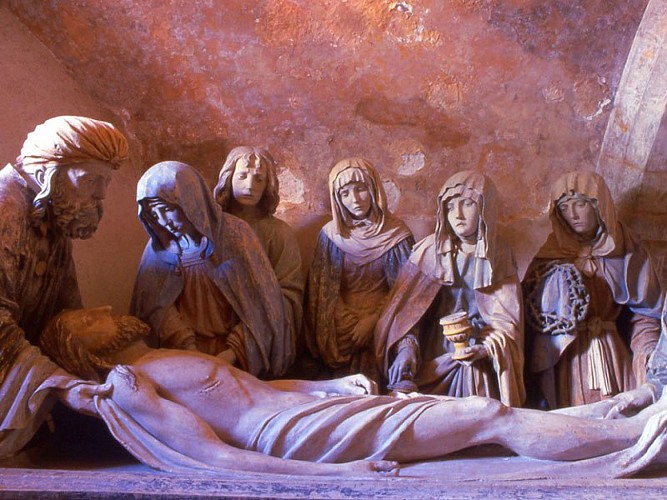 The wine and cheese hiking trail
Credit : crédit Ferme des Tourelles
This walking trail takes you for a stroll through hedge-lined farmland and forests, just a stone's throw from some prestigious vineyards. You'll discover a part of rural France that derives its fortune from the soil.

Credit where credit is due, so the walking trail starts in Chaource, a market town made famous worldwide for its artistic masterpiece and for a culinary speciality too. The masterpiece is the Burial of Christ, depicting the entombment of Jesus. It was created in 1515 by an unknown sculptor, who was later baptised, "The Master of Chaource". The culinary speciality is Chaource cheese, a famous cylindrical-shaped, ladle-moulded whole cow's milk soft cheese with a bloomy rind. It is made in the local cheese dairy, which you can visit. Not short on surprises, Chaource is also renowned for its chateau and golf club (which are combined) and its cider-making.Leaving the town, the trail heads for Maisons-lès-Chaource, where the puppet and coopers (barrel-making) museum are worth a detour. After strolling through the green and pleasant countryside, you arrive at Balnot-la-Grange, then Villiers-le-Bois, a tiny village that has managed the feat of organising two summer classical music concerts, as well as a bi-annual series of exhibitions. The next village, Etourvy, meets up with the GR 654 which goes to Santiago de Compostella. Around twenty kilometres from here are the prestigious vineyards of Riceys, in Champagne, and Chablis, in Burgundy. They share the same 150 million-year-old, calcareous Kimmeridgean subsoils.The next stop takes you to Chesley, where a craft tile-making firm has secured the label of "Entreprise du Patrimoine Vivant", in recognition of its traditional excellence. Les Carreaux de Chesley produce ceramic and terracotta tiles using ancestral know-how. At Cussangy, you'll find another company in an entirely different sector. Les Champignons de Cussangy grow oyster and button mushrooms that are highly-prized by foodies. The house speciality is Fondue de Champignons in Chaource cheese. And, so, it's time to return to the eponymous town of Chaource, if only for the pleasure of wandering through the beautiful Forest of Cussangy. One-third of the Pays d'Armance is covered in forest, with oak being the dominant species.
47 km

max. 322 m

min. 148 m

656 m

-656 m

Altimetric profile
Lodgings nearby
Starting point
Lat : 48.058205
Lng : 4.1361971
0 m
2 informations complémentaires
Ambiance
Cider is made here, as is the renowned AOP-certified Chaource cheese. There are mushrooms too and ceramic tiles, all produced here in the heart of the Champagne Humide wetlands, a part of the Pays d'Armance that lives nature's pace. The countryside is peaceful and hospitable and scattered with ponds, rivers and meadows. It holds a treasure that attracts people from all across Europe, the masterful Burial of Jesus, or the Holy Sepulchre, a collection of sculptures hidden in the crypt of the church in Chaource.