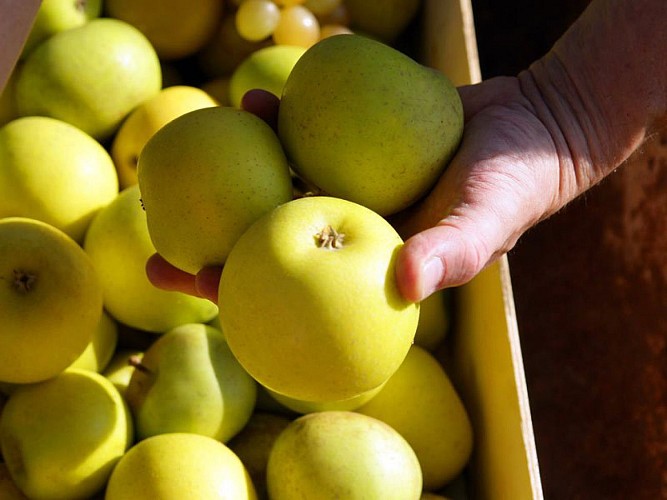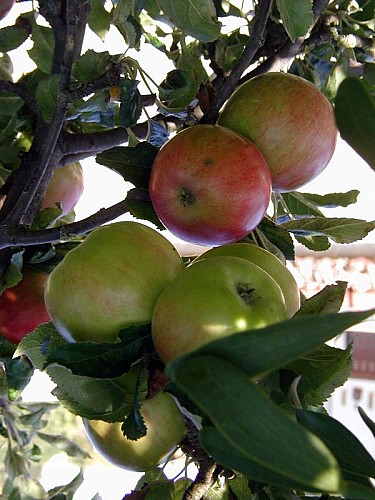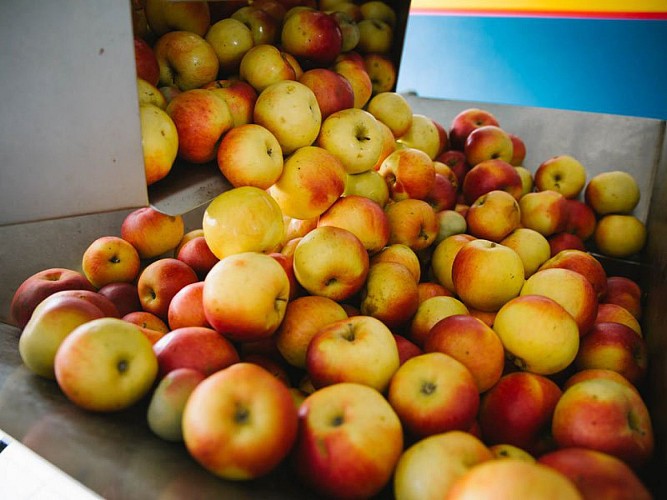 Credit : crédit photo Phovoir
The wood-covered, Pays d'Othe is also a land of orchards, where they produce a type of cider, quite different from that from Brittany or Normandy.

The GRP cider hiking trail starts at Villeneuve-au-Chemin, where you'll encounter a surprising monument perched on a rocky outcrop above the village. The Chapel of Saint-Joseph-des-Anges has a tall steeple on which an imposing statue of the Virgin sits. No-less surprising is another religious building in the neighbouring village of Vosnon. Here, the diminutive wooden-built church transports visitors to more Nordic, or Slavic latitudes. Prepare yourself for a change of scene! Wood and forests reign in this unusual part of the region, straddling Champagne and Burgundy. The land is strewn with flint and many orchards have been planted, where a tangy, fruity cider is made from a range of apple varieties, some of which are ancient. At Eaux-Puiseaux, a cider maker has opened a museum dedicated to his passion, packed with cider apple presses, grinders and stills. Once a year, in September, there is a "old-style cider apple pressing". You can't leave Eaux-Puiseaux without visiting the church, which houses a wonderful collection of modern stained-glass windows by a master glass-maker from Troyes. Based on the creation of the world, these new windows replaced the old windows, blown in by the storms in 1999.Next, you'll journey through the woods to reach Maraye-en-Othe, where a country history museum has been developed in a barn. You can also buy cider, apple juice, ratafia and other drinks here, as well as at Saint-Mards-en-Othe, your next stop. The village's name is linked to a famous group of wartime volunteer fighters. The Pays d'Othe hid many members of the French Resistance and a monument has been erected to commemorate their sacrifice. The road to Nogent-en-Othe is haunted by the memory of these underground combatants, while the church in this small village is adorned with murals dating back to the 16th century, that have been entirely restored. After a lengthy section in the woods you'll reach your journey's end in the enchanting Pays d'Othe, where the "longères", these long, narrow brick-built farmhouses decorated with friezes, sometimes just make you want to settle down.
33 km

max. 299 m

min. 162 m

586 m

-586 m

Altimetric profile
Lodgings nearby
Starting point
Lat : 48.0904257
Lng : 3.8521997
0 m
3 informations complémentaires
Departure
La Villeneuve au Chemin
Arrival
La Villeneuve au Chemin
Ambiance
The champagne and the rosé wine from Riceys are not the only local tipple! The Aube also makes cider in a small, gently undulating part of the Department, half-covered in forest. The word "othe" is actually plant-related, and city-folk prize the sparsely populated countryside for its peace and quiet and the promise of pleasant strolls. Of course, there is added appeal with the prospect of a sparkling drink awaiting you at the end of the road!