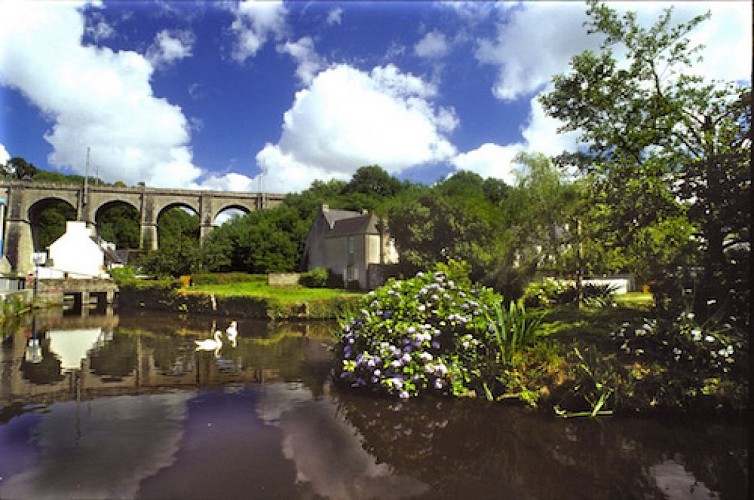 Vers le Pont de Kéribot -Le Ponthou
In the heart of the Douron Valley, classed as a Natura 2000 site, you'll find a walk that takes you over various bridges: a Celtic bridge, a railway bridge, and a modern 4-lane bridge. You'll certainly be tempted to sop and admire the wildlife in the valley and the river or simply spend time strolling in the shade of the trees, lulled by the sound of the river.
6.7 km

max. 133 m

min. 64 m

165 m

-165 m

Altimetric profile
Lodgings nearby
Starting point
Plouigneau
Lat : 48.565444035145
Lng : -3.6387468675845
0 m

1
Pour traverser la rivière, ce pont très ancien, fait de grandes dalles et de piliers de pierre, vous transporte à des âges anciens : Véritable saut dans le temps, après être passé sous l'imposant viaduc en béton de la 4 voies Rennes - Brest.
Plouigneau
Lat : 48.58636
Lng : -3.64449
0 m

2
La rivière du Douron et sa vallée sont classées Zone Natura 2000 pour la qualité de ces milieux et pour les espèces d'intérêt faunistique et floristique présentes. Le saumon sauvage et la truite Fario y remontent, certaines ouvertures vous permettent de tester la pêche à la Mouche. Avis aux amateurs de "no Kill".
Plouegat-moysan
Lat : 48.56853
Lng : -3.63772
0 m