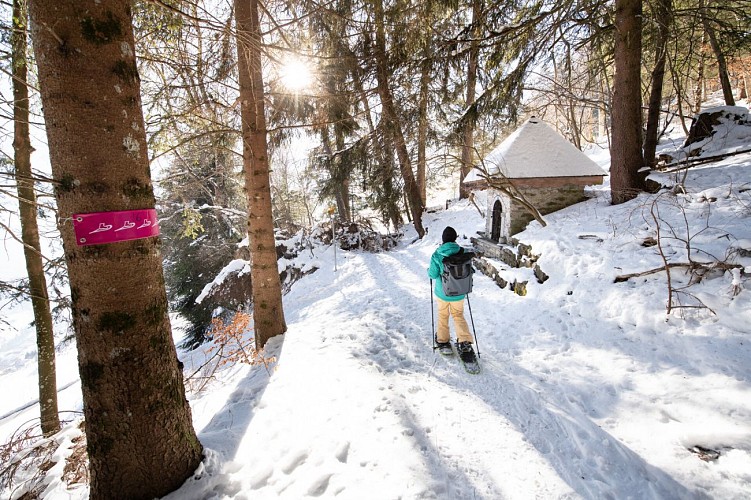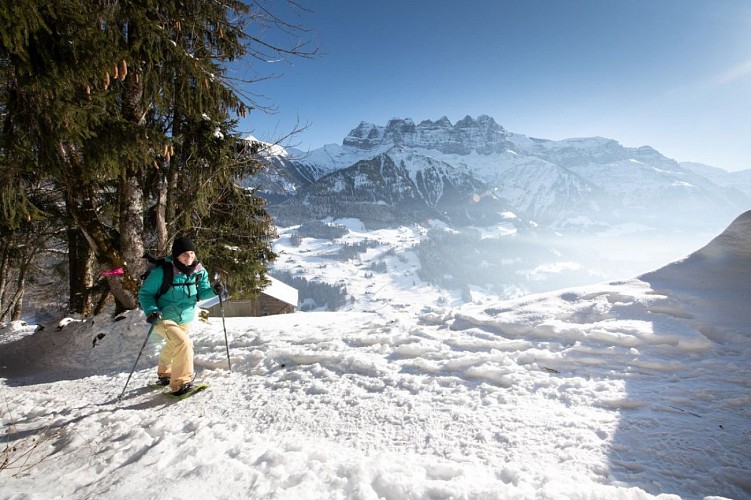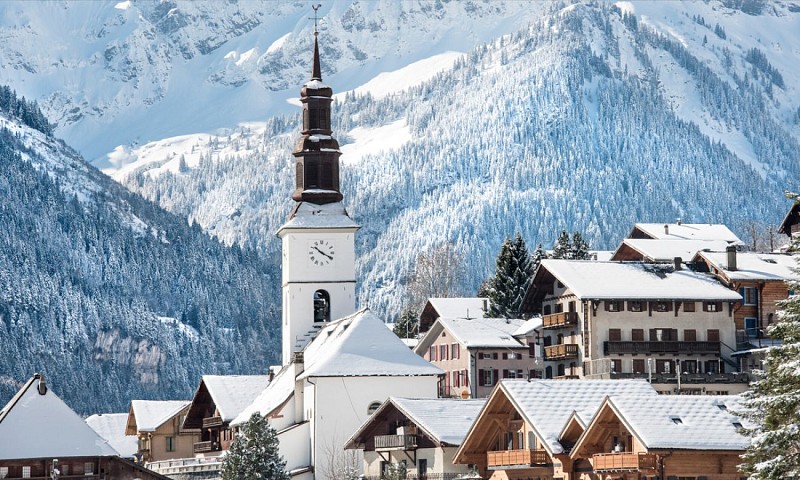 16. Val-d'Illiez - Champoussin
This is a mid-altitude trail through beautiful forests with breathtaking views of the Illiez Valley and the Dents du Midi mountain range.

The trail leaves from the village square at Val-d'Illiez, in front of the tourist office. Climb the hill between the historic 'mazots', which look like miniature chalets. Turn right onto Route de la Carrière towards Champoussin and follow a scenic path through the forest lined by lovely stone walls that date from the early 20th century; you will pass by an oratory dedicated to St. Therese on the way. Continue uphill on the Délifrette road for about 300 meters. From here you can continue straight on to join Snowshoe Trail No. 2 which leads to the quaint U Yeu Tsalé Restaurant (approx. 1 hour). Otherwise, turn left to follow a hillside path through the forest. At the crossroads, turn right and climb to reach Snowshoe Trail No. 1 which leads to the Frâchette covered picnic area (approx. 1 h). To go directly back down to the village, turn left in front of the Lisas Chapel. Cross the Les Crosets road twice and continue down a nice path that will take you back to Val-d'Illiez.
5 km

max. 1385 m

min. 955 m

428 m

317 m

Altimetric profile

Accessibility
Starting point
CH - 1873 Val-d'Illiez
Lat : 46.206321
Lng : 6.866741
0 m

Le Repos Da Giuseppe
Restaurant Pizzeria in the heart of the village.Italian cooking,...Read more
Lat : 46.204689
Lng : 6.892543
0 m

RDDM Tourist Office at Val-d'Illiez
Do you need information, advice or help to plan your stay? The Val-d'Illiez...Read more
Lat : 46.204424
Lng : 6.892224
0 m
2 informations complémentaires