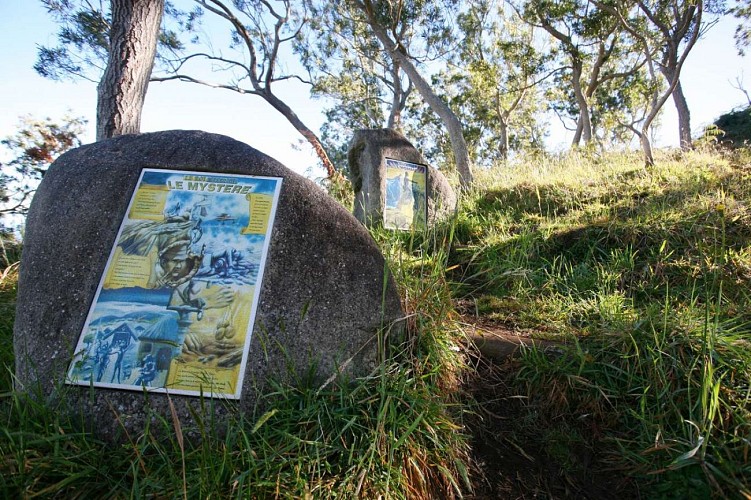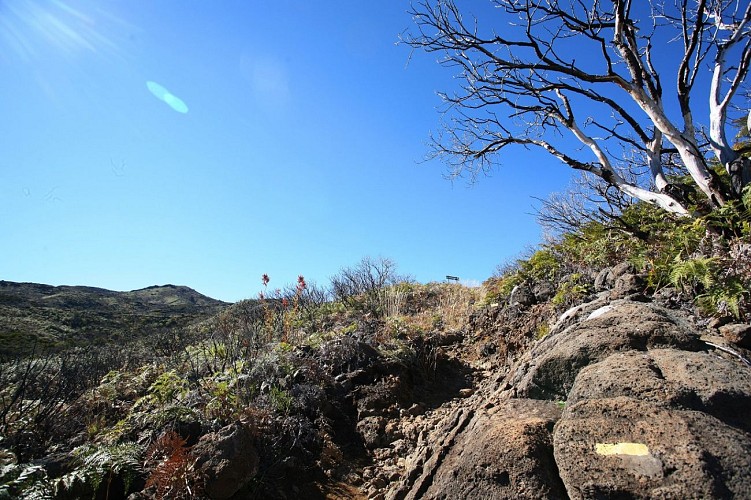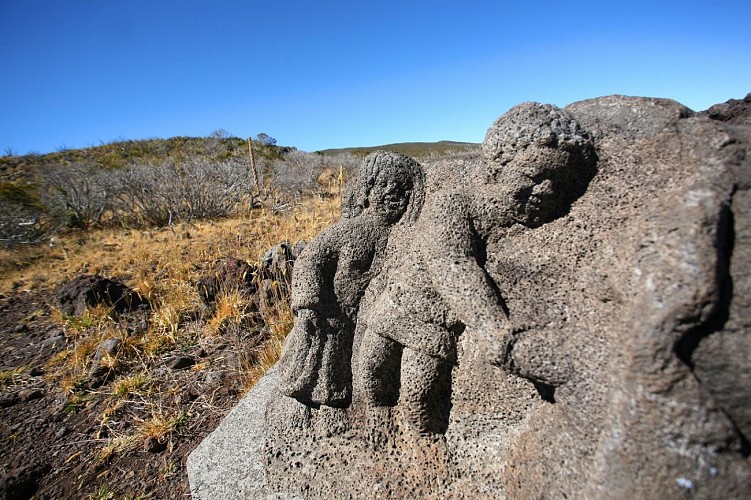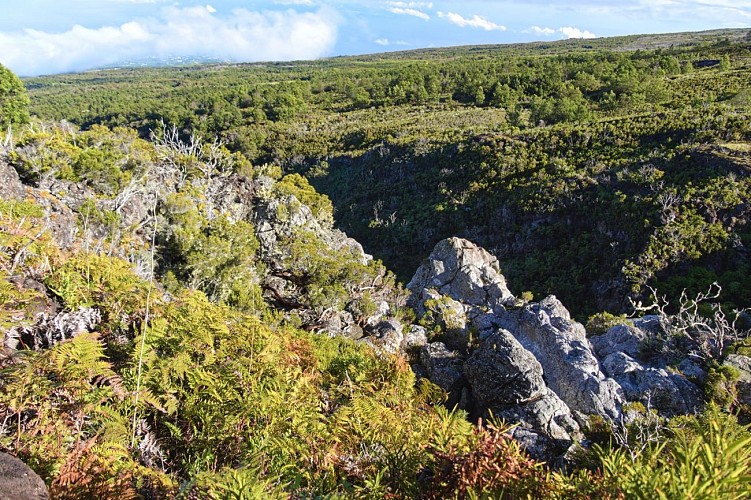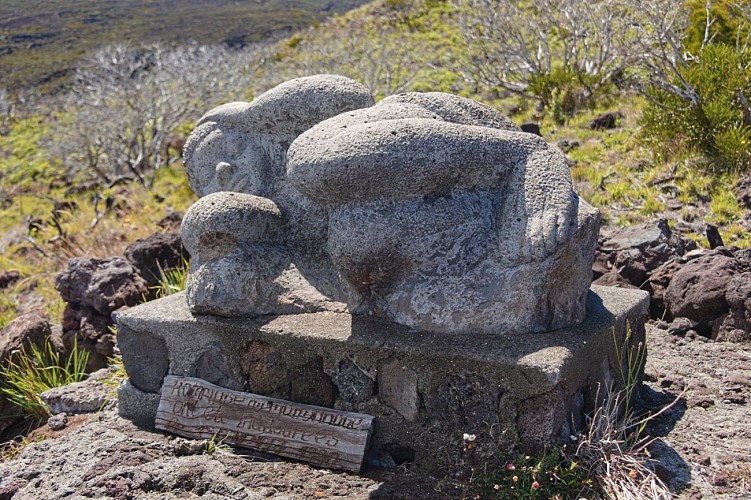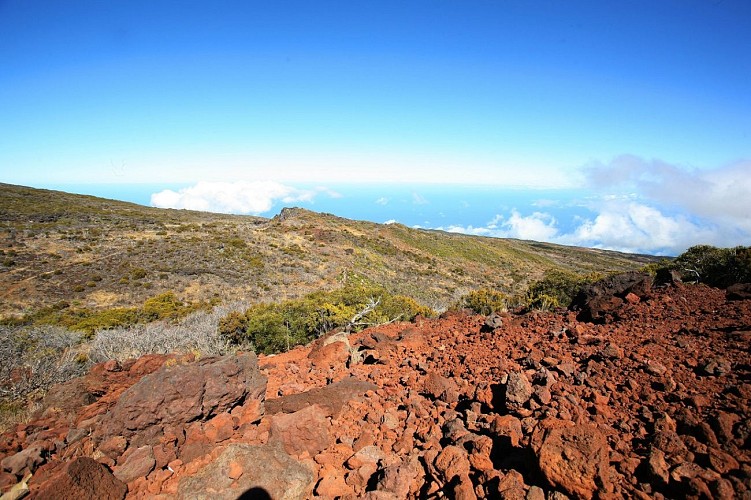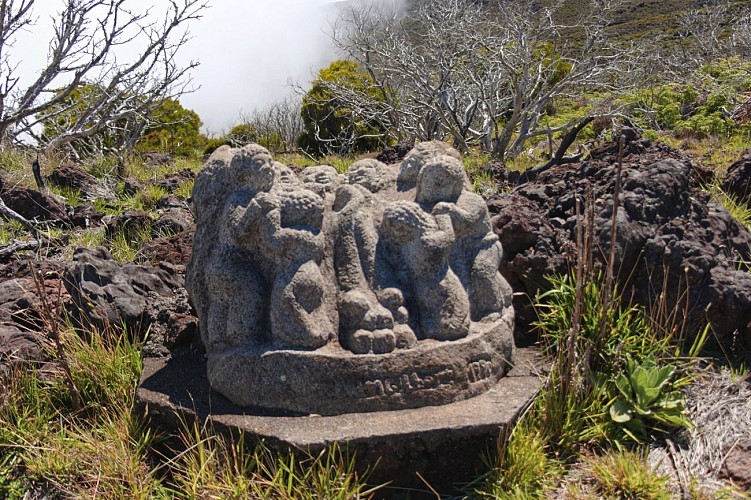 DURATION: 4 hours round trip

Ascent: 600



ITINERARY

From Saint-Leu, go as far as the Chaloupe Saint-Leu. Take the Chemin Vaudeville at the small roundabout towards the Chaloupe pharmacy, until the Tamarins forest road, in the direction of Tévelave. Stop here and park at the place known as "Camp du Piton Rouge". The path is sign-posted.



During this hike, linked very much with the history of slavery and in particular the maroon period, you will discover the Piton Rouge and the traces of King Phaonce's trail in this inhospitable region.



Piton Rouge is a remarkable site, for its viewing points over the west coast, but also because of its history: slaves called "maroons" took refuge in caves in high, far places and on the slopes of Maïdo. You will learn more from the explanations displayed on boards at the beginning of the path.

Start slowly; this wide path goes up on a gentle slope in a forest covered in ferns. You will then come to a vast expanse, with small Highland Tamarinds and their pretty yellow flowers. The stony path will take you to the site of Piton Rouge. This former volcano with its summit at 2,402 m, is covered in scoria (basaltic lava) and all around are dikes (basalt walls or volcanic vents that fed the volcano with magma), which was a strategic place for slaves who could anticipate from here the arrival of any groups of hunters.

Just below the summit you can see sculpted works by Gilbert Clain commemorating the slaves.

Don't hang around here, the clouds arrive very quickly in this area.

Have a look around and then go down again towards the picnic tables. Take the direction of the Caverne du Roi Phaonce. You have 1 km left. On the left a path goes up to La Glacière. Continue to follow the white marks painted on the rocks. You will reach a dry ravine where King Phaonce's cave was. It is said that his body is buried under the stone blocks. A sign indicates the place. The return trip is via the same route.



HISTORICAL FOCUS

Who was King Phaonce? He was considered the "king of the maroons, whose kingdom stretched from Petit Bénare to Grand Bénare"; legend has it that he administered justice, by throwing convicts and slave traders off the top of a mountain. His throne was a seat carved into the rock.

Killed by bounty hunters and buried in the same place, his left wrist and his right ear were taken back to his owner.



PRACTICAL INFORMATION:


Be careful of the fog
Wear good walking shoes for the stony ground.
Hiking stick advised
Remember to cover yourself (hat or cap) and take enough water in the summer.
Difficulty: average, but be careful of the ascents and the type of path, as it is very stony.
4.5 km

max. 2435 m

min. 1828 m

600 m

-999 m

Altimetric profile
Starting point

Haut de Saint-Leu
Lat : -21.1428
Lng : 55.3613
0 m
1 informations complémentaires