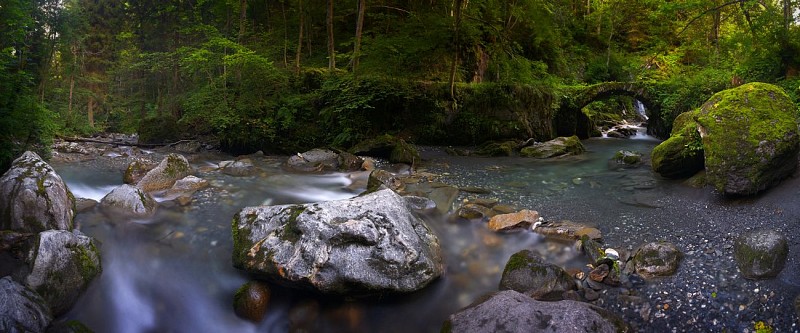 Water trails : Balade : The Creux Saint Jean and the Belle au Bois Waterfall
A bucolic walk for all the family, combining the beauty of the setting, geology and local history.

From the village square follow "Rue Charles Feige" until you reach the Resistance Square. Take the path opposite the Casino underground car park; it is steep until the St Michel Cross. Higher up, on a little esplanade, Notre Dame de Nazareth and Notre Dame des Vertus are characterised by a Byzantine dome; at an angle to the south-east is the Oratory of the "Adieux".
To reach the "Creux St Jean" take the little grassy path that departs horizontally. After a short descent, the statue of Saint John the Baptist will appear at the side of the path, watching over passers-by.
Follow this winding path to reach an enchanting place: waterfall, little stone bridge, oratory dedicated to Saint John; a haven of cool freshness and calm where the faithful come to return to nature and reflect.
Continue along the path until reaching the small paved road, "Chemin du Maz"; you can either climb up for about 10 min to discover the "Belle au Bois" waterfall (more difficult path) or, go down directly to the village centre.
When you arrive at the old Lorraine bridge, climb up a few dozen meters on the left and, on your right, you will see the fountain between the church and the site of the old cemetery, the Presbytery, and the village square.
1.8 km

max. 1181 m

min. 1097 m

153 m

153 m

Altimetric profile
Starting point
Place du Village
74120 Megève
Lat : 45.8568
Lng : 6.61782
0 m

The Belle aux Bois waterfall
The Belle aux Bois waterfall is a cannyoning spot and is accessible...Read more
Chemin du Maz 74120 Megève
Lat : 45.855
Lng : 6.62154
0 m

The Calvary Way
The Megève Calvary, with chapels depicting scenes of Christ's Passion...Read more
Chemin du Calvaire Village 74120 Megève
Lat : 45.8569
Lng : 6.62094
0 m

Le Refuge du Calvaire
Restaurant located on the Calvary conservation site, only 10 minutes...Read more
592 Montée du Calvaire 74120 Megève
Lat : 45.8564
Lng : 6.62523
0 m
4 informations complémentaires
Contact
Phone : 04 50 21 27 28

Email : megeve@megeve.com

Open period
From 01/05 to 30/09: open every day.