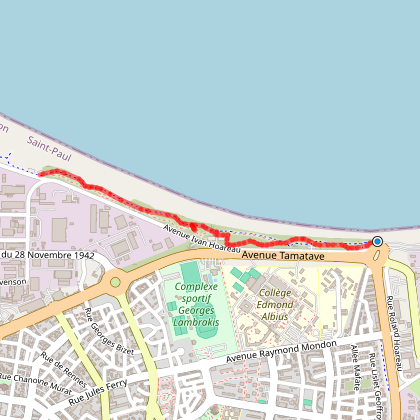 The Coastline near Le Port
DURATION: 1 hour round trip

Ascents/Descents: none



The town opens onto the ocean.



ITINERARY

The coastline covers approximately 8 ha, and runs 2 km along the coast. It stretches from the Tamatave roundabout (eastern port area) to rue Camille Desmoulins (industrial estate n'°1).



On foot, by bike or on roller-skates, the renovation of the sea front in the town of Le Port allows you to enjoy leisure and sporting activities safely (2000-m asphalt track for passionate cyclists and roller-skaters and a workout station with a high bar, abdominal machine, etc.).



Take time on this walk to explore the landscaped areas with plantations of coconuts, phoenix, tropical almond, Ephedra distachya (known locally as sea grape) and various succulents, as well as "dry gardens", such as common screwpines and beach cabbage, etc.



Picnic areas with BBQs and water and lighting points are available for a lunch or dinner outside, to make the most of the sea air on the coast.
1.7 km

max. 9 m

min. 6 m

999 m

-999 m

Altimetric profile

Accessibility
Starting point
Voie de liaison Portuarie
Littoral
Lat : -20.9299
Lng : 55.3085
0 m

Parking Tamatave
Voie de liaison Portuarie
Lat : -20.9298
Lng : 55.3087
0 m

Parking Desmoulins
Voie de liaison Portuarie
Lat : -20.927
Lng : 55.2937
0 m
1 informations complémentaires