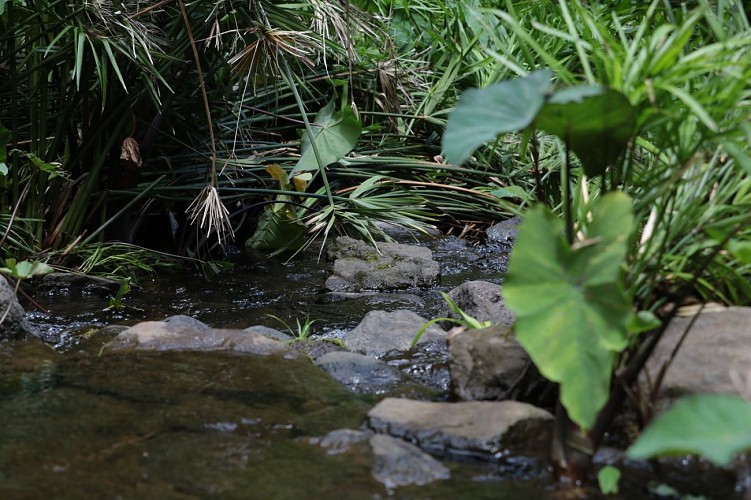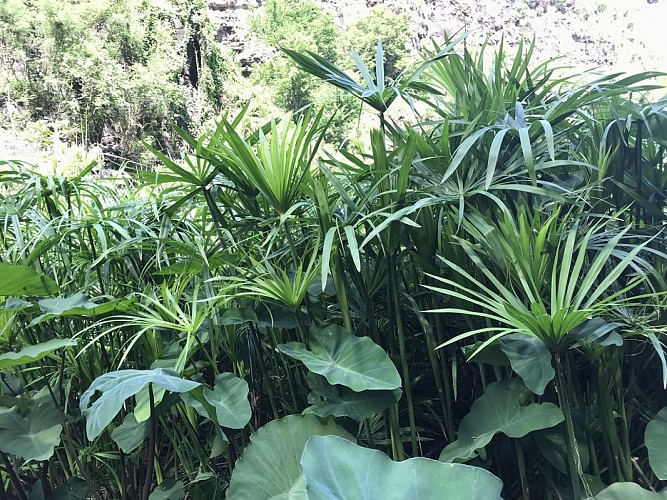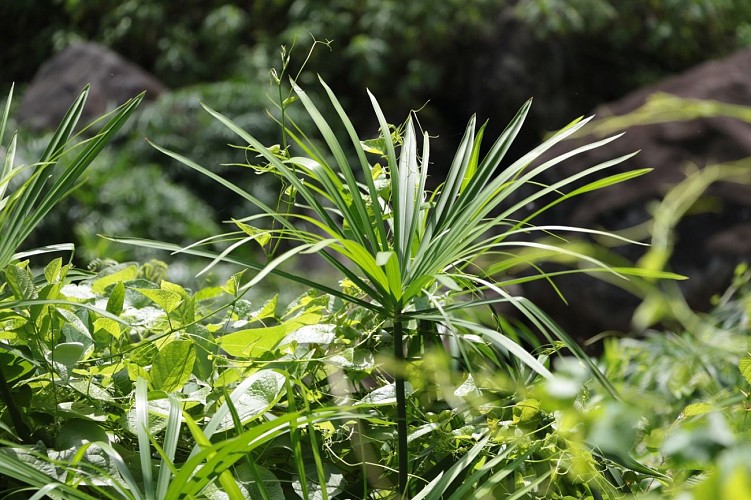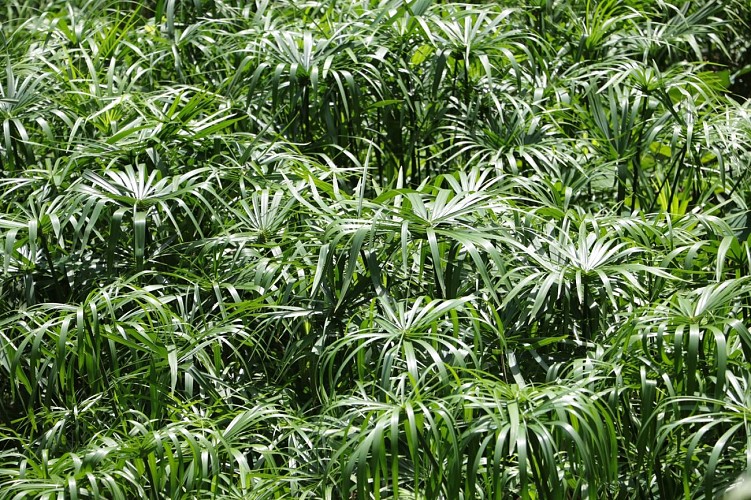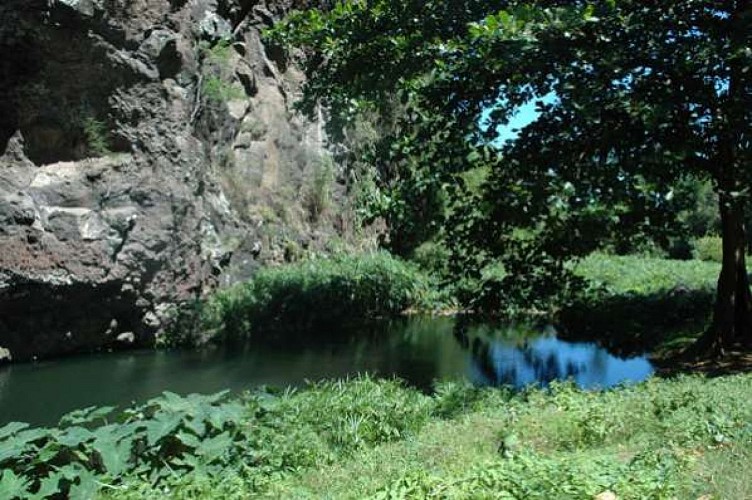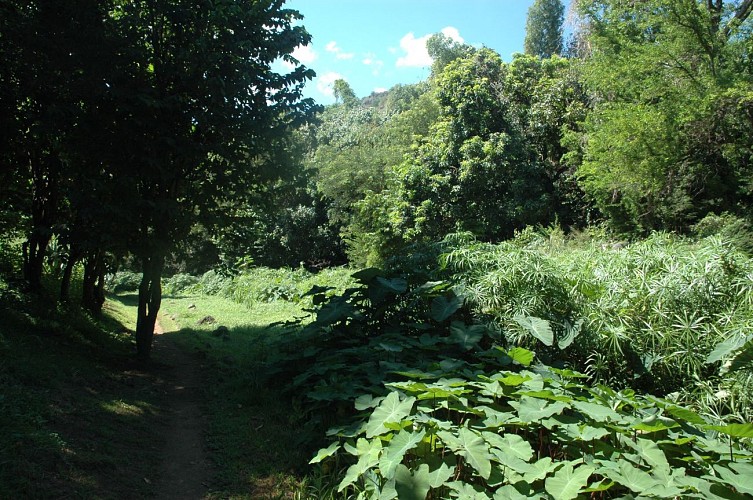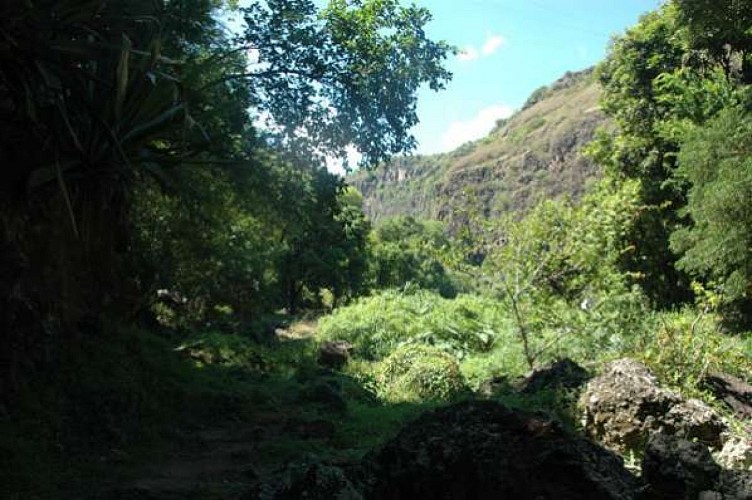 Bassin Long (Grande Fontaine)
DURATION: 30 mins round-trip

ITINERARY

From the Savannah roundabout at Saint-Paul, take the direction of Bois de N?fles Saint-Paul. 300 metres after the petrol station, turn right towards the Tour des Roches. By bus, take the line 4 bus run by Kar'Ouest from Saint-Paul station. Continue along the Tour des Roches road. When you arrive in the Grande Fontaine neighbourhood, you will see a sign with "Bassin Long" just before a small ravine. Park your car.

Coming from the south, leave the centre of Saint-Paul and follow signs to Grande Fontaine. After the bridge, turn left (you will see the old washtub on your left), continue on, passing the small ravine and then park your car.

5 minutes from Saint-Paul town centre, a relaxing, calm and bucolic walk.

Situated in a ravine that divides the Tour des Roches road, the Bassin Long is not well-known, but is worth the detour. To get there, there is a well-kept path along the left bank (looking upstream) of a small stream. Wide and flat, it is accessible to all. Papyrus and taro plants grow along the river

The path is marked with a sign "Bassin Long". From the beginning of the path, you can contemplate the beauty of the place. This refreshing walk is set in a magnificent context: dense vegetation mixed with local life.

The path stops at the pool but you can easily continue along the ravine among the rocks. You can explore small pools covered in duckweed. After around 30 minutes walk, you will reach a dead-end. You are sure to see several goats.

You can take your bathing costume and towel to take a dip in the pool, it is refreshing.

You can picnic in the grass, but there is no rubbish disposal, so please take your rubbish with you.
725 m

max. 33 m

min. 4 m

999 m

-999 m

Altimetric profile

Accessibility
Starting point
Chemin du Tour des Roches
Littoral
Lat : -21.0097
Lng : 55.2851
0 m

parking de l'école
Chemin du Tour des Roches
Lat : -21.0106
Lng : 55.2831
0 m

Auberge du Pavé
L'auberge du Pavé fait restauration le soir, sur réservation, (possibilité...Read more
121 Chemin Pave - Ch des Cedres 97460 Saint-Paul / Saint-Gilles
Lat : -21.0158
Lng : 55.2934
0 m

Arrêt de bus au quartier Bouillon
Chemin des Cedres
Lat : -21.0088
Lng : 55.2867
0 m

Stationement panneau "Bassin long"
204-210 Chemin du Tour des Roches
Lat : -21.01
Lng : 55.2842
0 m
1 informations complémentaires