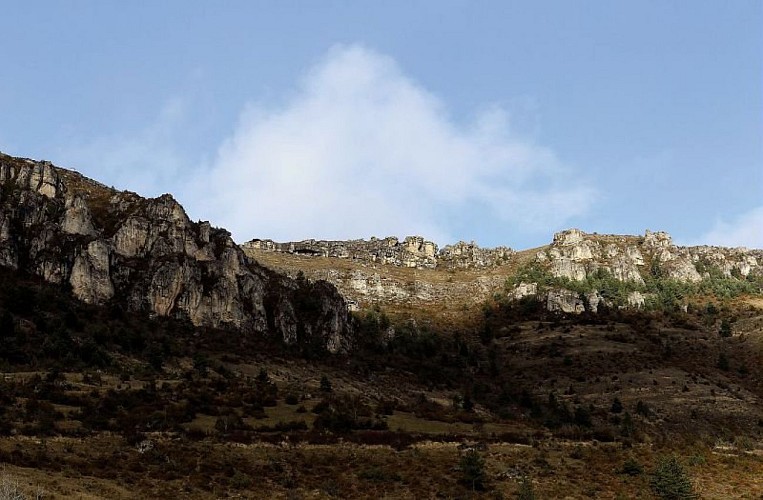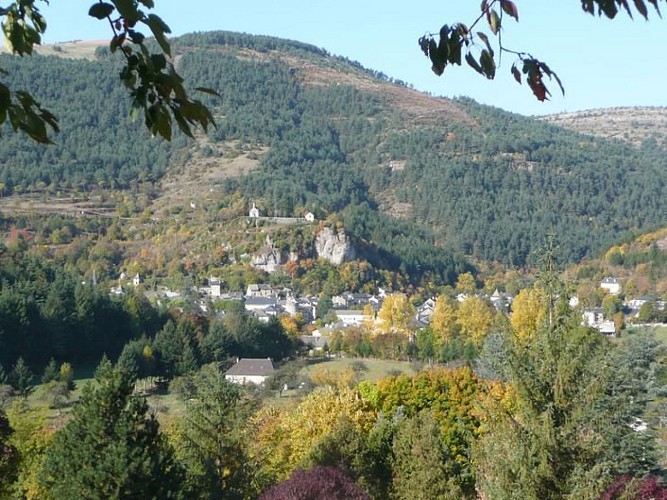 Credit : © Bruno Descaves
This trail takes you from the arid Causses plateau to the foothills at Le Puech Pounchut, and lets you discover the upper Jonte valley with all its contrasts.

From the carpark, take the D 996 on the right until you reach a small park with a stone cross. Take the path on the left running alongside a high wall. Go uphill to join up with the D 986, then take the path opposite. This is steep for 150 m and joins up with a former road. Turn left onto this and walk to the road leading to Pauparelle. Turn right onto this road and walk to Pauparelle. Do not enter the hamlet (on your left), but go uphill on the path and, after about 100 m, fork right to start a very steep ascent. After 200 m, a track runs alongside the cliffs: take this and walk alongside the small road without crossing it. Turn right towards Salvinsac, go downhill into the gully and end up on the D 996 at Salvinsac. Cross the road to go down into the hamlet and cross the river Jonte. After the bridge, go uphill into a forest of conifers after a forestry track. After two hairpin bends, go right and slightly downhill at the pass. At the first crossroads, continue straight on the track until you reach a large crossroads. Here, go towards Meyrueis to reach the village vacances (holiday village). Cross the bridge over the river Brèze and walk alongside the public swimming-pool to get to Meyrueis. Turn right and cross the bridge to return to the carpark.
12 km

max. 0 m

min. 0 m

666 m

-666 m

Altimetric profile
Starting point
Lat : 44.1774526
Lng : 3.4298582

Terrace
Throughout the climb, you will see abandoned former crop terraces....Read more
Lat : 44.181225
Lng : 3.428922

Pauparelle
From Pauparelle, there is a nice view of the village of Ayres. This...Read more
Lat : 44.187713
Lng : 3.431516

Jonte valley
The two valley sides contrast greatly. On the south-facing side (adret),...Read more
Lat : 44.203176
Lng : 3.444033
6 informations complémentaires
Ambiance
Un sentier très panoramique; Montée vers Pauparelle à la découverte des toits de Meyrueis imbriqués les uns dans les autres et blottis au pied du rocher, débouchant sur les gorges de la Jonte bordée par le causse Méjean et le massif de l'Aigoual : un voyage entre Causses et Cévennes.
Access
Meyrueis via the D 996 and the Jonte gorges
Advised parking
Carpark behind the Crédit Agricole
Advice
Make sure your equipment is appropriate for the day's weather conditions. Remember that the weather changes quickly in the mountains. Take enough water, wear good shoes and put on a hat. Please close all gates and barriers after yourself.