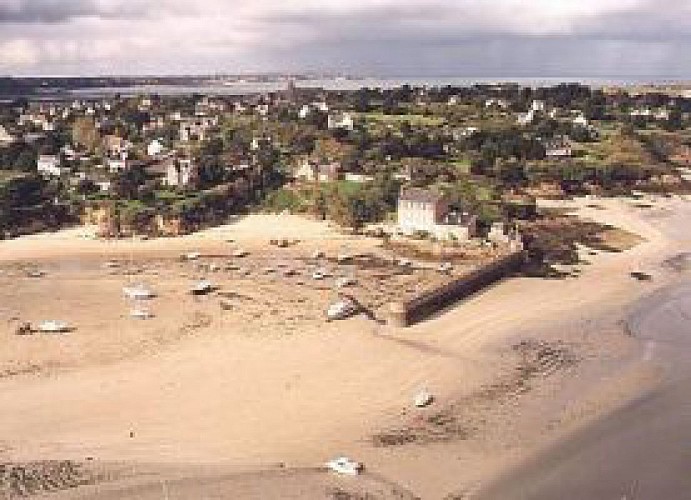 The maritime countryside of Saint-Jacut-de-la-Mer
Credit : aérophotographie Quessoy
Now a peninsula, Saint Jacut used to be, originally, an island linked to the mainland by a sand bank threatened by tempests. Since the 5th century, when Our Lady of Landouar abbey was created (after the other name of the peninsula), its inhabitants have kept their particularities unique to islanders, in their ways, habits or architecture.
Indeed, for a very long time, the Jaguens didn't mix much with their neighbours. They even keep a unique dialect, from Gallo, le Jégui, still in use barely fifty years ago. Paul Sébillot, famous storyteller, tells lots of this singular population's adventures. The life of the island will long be based on the fishing of mackerels, which busied all men from March to October. The valourous women were not left out. They worked in the fields, watched over the children, sold the fish and had the task of bringing back bait for their husbands to fish with. An often meagre catch and an hard life.
Today, the fishes are not the one punctuating the Jaguens' life, but holiday-makers, ever more numerous, attracted to this peninsula so authentic. Therefore, we propose you briefly discover this busy village. At the beginning of the 5th century, Breton, who then lived in today's Great-Britain, were driven out by a barbaric people: the Saxons. Theses Bretons, who were Celts, took refuge with their "cousins" from Armorica. Amongst this refugees, a couple, Fragan and Gwenn, came to live in the area (Ploufragan). They had a daughter (Clervie) and three sons (Guetenoc, Guénolé and Jacut). Said Jacut settled in Landoac (first name of Saint Jacut) which he evangelised around 480 AD and founded a monastery (on the grounds of the current abbey). Jacut died during the first half of the 6th century.

(The suggested circuits are given as an indication and do not take into account the possible terrain or environment evolution. The users' personal responsibility is engaged by the use of these circuits, the office de tourisme disengages itself from any responsibility regarding the use of the maps and possible accidents that may occur on the proposed itinerary.)
6.6 km

max. 30 m

min. 6 m

167 m

-181 m

Altimetric profile

Accessibility
Lodgings nearby
Starting point
5-7 Rue du Châtelet
22750 Saint-Jacut-de-la-Mer
Lat : 48.5981
Lng : -2.18889
0 m

Saint-Jacut-de-la-Mer's Office de Tourisme
The Office de Tourisme (Tourist Board) takes the time to offer you...Read more
Lat : 48.598
Lng : -2.18902
0 m

Du Châtelet winter harbour
When in rue du Châtelet, (the Office de tourisme is 150m farther on...Read more
33 Rue du Châtelet 22750 Saint-Jacut-de-la-Mer
Lat : 48.5985861
Lng : -2.1819341
0 m

Plage de la Pissotte
One of the Jaguens' favourite beaches during winter since it is protected...Read more
9 Chemin de la Pissotte 22750 Saint-Jacut-de-la-Mer
Lat : 48.5952
Lng : -2.18462
0 m

Justice Point
Walk past the camping site and take the path through the dune above...Read more
Lat : 48.59126
Lng : -2.18194
0 m

The monks' dike
Probably started in the 11th century and erected by the monks of the...Read more
Lat : 48.58845
Lng : -2.1878
0 m

Zone Artisanale des Basses-Terres
In this gained over the sea area, the Zone Artisanale set itself.
Lat : 48.58399
Lng : -2.18795
0 m

La Vieille Route (The Old Road)
Fully integrated to the second railway lines of local interest built...Read more
Lat : 48.5842
Lng : -2.19198
0 m

Biord village and its hillock
The name comes from "buor", a cattle pen in old Breton. From its top,...Read more
17 Rue de Biord 22750 Saint-Jacut-de-la-Mer
Lat : 48.5877
Lng : -2.1937
0 m

Cross of the cimetières neufs
This cross is also called "Croix du sillon" (cross of the groove).
2 Rue de Dinan 22750 Saint-Jacut-de-la-Mer
Lat : 48.5921
Lng : -2.19182
0 m

Place Landouar
Previously Place du Calvaire (Calvary Square), then Place de la Poste...Read more
6 Place Landouar 22750 Saint-Jacut-de-la-Mer
Lat : 48.5957
Lng : -2.19015
0 m

Rangées Jaguines (Jaguine Rows)
The Grande Rue (Main Street) was the only road named rue for a long...Read more
53-65 Grande Rue 22750 Saint-Jacut-de-la-Mer
Lat : 48.5962
Lng : -2.19014
0 m