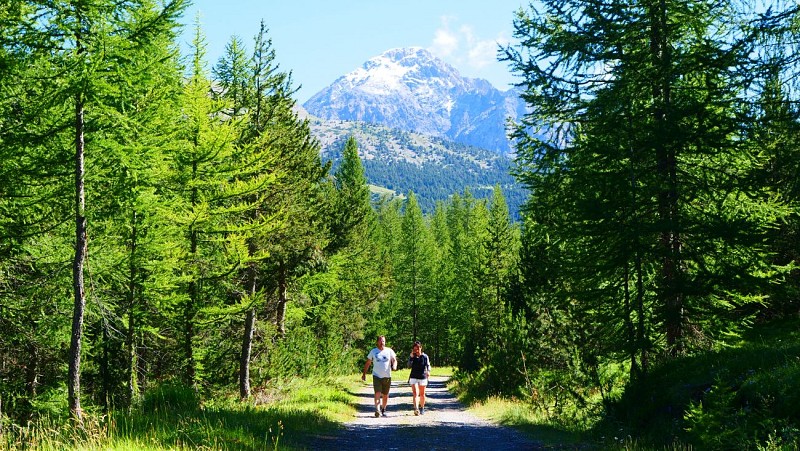 Espace Trail Montgenèvre 3000 - Parcours 1
Route 1 - The Sestrières Wood fitness trail

From the Espace Prarial, start on the French side towards the tree climbing area and cross a magnificent larch forest for 3 km (practically flat, even flat going down) to reach the belvedere and a breathtaking view of the upper Durance valley and the Briançonnais forts. The return journey will be via a small path (the health trail) still in the woods.
Ideal course for the resumption of running, in the morning as well as in the afternoon, as it is very shaded.
Snow Trail course laid out in the winter in the winter Multi-Activity Zone and used by the Sky Race Solidaire in the summer.

Highest point: 2059 m (Belvedere)
Type of route: loop
Distance: 6 km
Duration: 45 min to 1h30
Height gain: 125 m
Height loss: 125 m

Good advice and equipment
You will evolve under your own responsibility in the mountains, even in the high mountains, with the ascent of Chaberton 3131 m for the most daring. The Espace Trail 3000 is certainly one of the highest trail areas in France.
Inform yourself about the weather forecast before setting off on the red and black courses of the ETM.
Your equipment must be adapted: lighter on the green and blue courses, but still with a 50 cl maximum water bottle and a windbreaker.
It will be much more important on the red and black courses where mountain equipment is required. In a small rucksack adapted to running you will find energy gels, a water reserve of at least one litre (no water point or very little on the high altitude routes), a waterproof jacket with hood, a survival blanket, a whistle, an IGN 3536R map which covers all the routes, some compeed and thoughts, a telephone and a headlamp which can be useful at the end of summer.
6 km

max. 1851 m

min. 1784 m

125 m

125 m

Altimetric profile
Starting point
Espace Prarial 320 Route d'Italie
05100 Montgenèvre
Lat : 44.930225
Lng : 6.721825

Espace Trail 3000 Montgenèvre
Unique en France ! L'Espace Trail 3000 de Montgenèvre comprend...Read more
Lat : 44.932499
Lng : 6.726812
1860 m
3 informations complémentaires
Open period
All year round.
Updated by
Office de Tourisme de Montgenèvre - 07/09/2023
https://montgenevre.com/
Report a problem