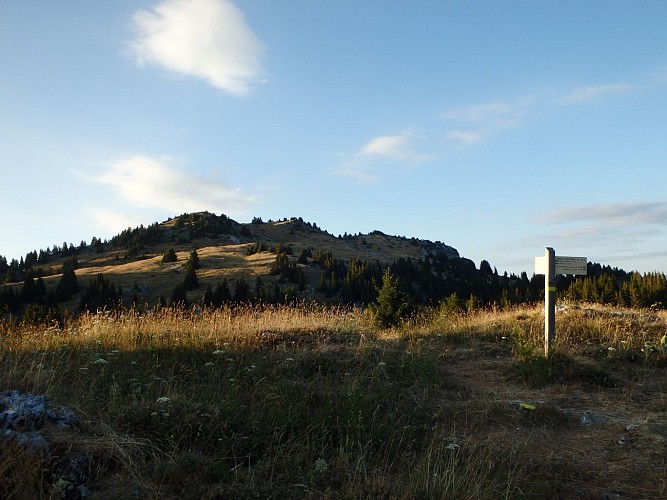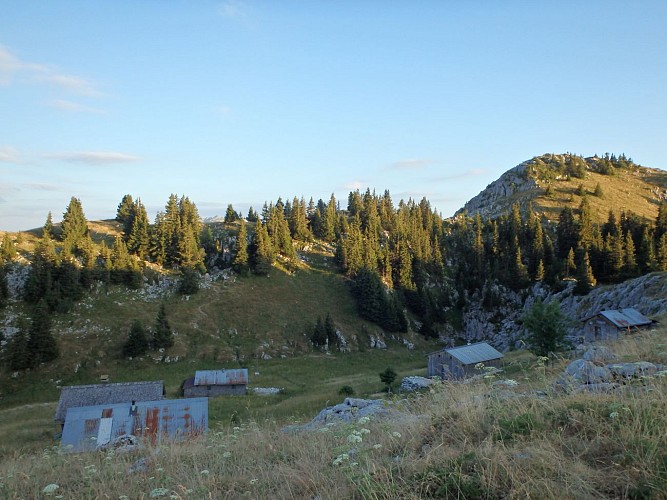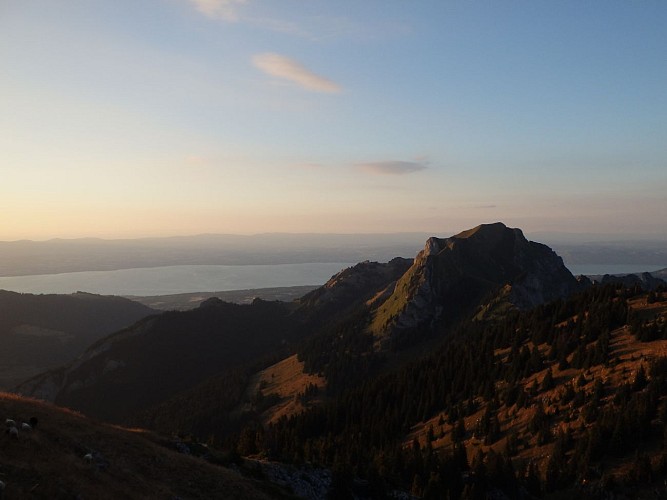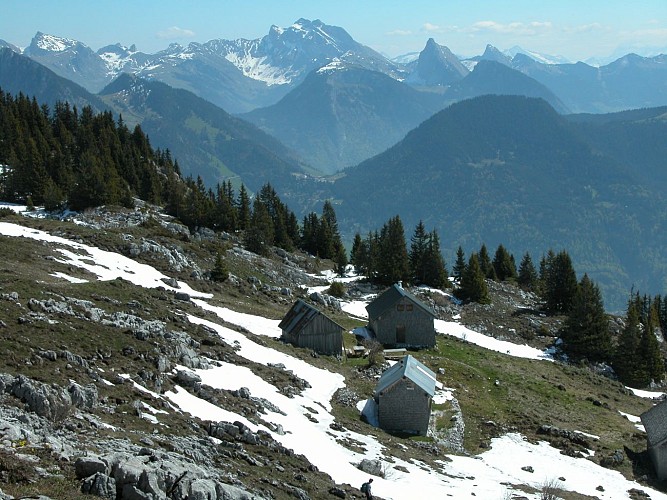 "Le Tour de Nifflon" Hike
The "alpagistes" path: visit Nifflon's Notre Dame des Neiges Chapel built in 1821! An easy and pretty walk through typical Alpine landscapes dotted with sinkholes and chalets.

Nature and Heritage:
"Nifflon" comes from the Latin "Nec Fluere" meaning "where water doesn't run." Water seeps into "tannes" worn away by erosion and characteristic of the karstic landscape. Shepherds collected water from the roof in large casks called "toenes". If summer was too dry, they collected snow from the tannes. Nevertheless, this pasture was popular with Alpine farmers for the top quality grass which gave butter a unique flavour.
Route details:
From Sciard chalet, follow the 4x4 route for approx. 1km until you reach a signpost to Nifflon on your left and follow it until "Nifflon d'en bas" (mountain pasture chalets). When you reach Nifflon, explore the chalets and chapel.
Return to the signpost and head for Pointe d'Ireuse (1890m peak) for 360° views of (clockwise) Mont Blanc, the Aravis range, the Bornes range, Lake Geneva, the Jura range, Chablais mountains, the peak of Western Oberland and the Swiss Valley.
Return in a northerly direction to "le Golet de la Chaux" and continue in the same direction to the "Crève Coeur" along a steep slope to La Buchille chalets. From here, take the carriageway back to Sciard chalet (approx. 1km).
Useful information: Yellow or red and yellow markings/high point: Pointe d'Ireuse, 1890m.
8.1 km

max. 1876 m

min. 1325 m

630 m

630 m

Altimetric profile
Starting point
Départ du Sciard Alpage de Nifflon
74470 Bellevaux
Lat : 46.2757
Lng : 6.5647
0 m

Pèlerinage de Nifflon
Le pélerinage a lieu chaque année dans les alpages de Nifflon, le...Read more
74470 Bellevaux
Lat : 46.2589
Lng : 6.55515
n/a m

Buchille mountain pasture
This mountain pasture was once home to over 300 cows on the way from...Read more
La Buchille 74470 Vailly
Lat : 46.2789
Lng : 6.5742
0 m

Alpage de Nifflon
"Là où l'eau ne coule pas" (where no water runs) is the name given...Read more
Nifflon d'en Haut 74470 Bellevaux
Lat : 46.2594
Lng : 6.57248
0 m

Fête de la Buchille
74470 Vailly
Lat : 46.2781
Lng : 6.57382
0 m

Nifflon Chapel
In the 20th century, Alpine shepherds who could not go back down to...Read more
Alpage de Nifflon 74470 Bellevaux
Lat : 46.2755
Lng : 6.5643
0 m
4 informations complémentaires
Open period
All year round.

Subject to favorable weather.