 An easy route through the moorland and heather, leaving from Saint-Julien chapel and offering pretty viewpoints over the Pointe de Pen-Hir and the Tas de Pois. Saint-Julien Chapel, your starting point, dates from the 17th century and was once a refuge for refractory clergy, those who refused to swear allegiance to the constitution after the French Revolution. Restored in 1805, a few years after its bell-tower disappeared, it is now open once a year for the Pardon de Saint-Julien on the first Sunday in May. Find this itinerary in Topoguide P293 'La Presqu'ile de Crozon à pied®'. On sale in bookshops, in Tourist Offices throughout Brittany and online at www.ffrandonnee.fr.
6.9 km

max. 60 m

min. 16 m

90 m

-90 m

Altimetric profile
Starting point
Camaret-sur-Mer
Lat : 48.262736776316
Lng : -4.5811172483498
0 m 1
Commencer par le petit chemin creux, couvert d'aubépines derrière la chapelle. Continuer le long d'un pré puis traverser deux routes. Poursuivre la randonnée dans un étroit chemin herbeux pour déboucher sur un chemin d'exploitation. Bifurquer à gauche et prendre le chemin à droite jusqu'à la cote 36 sur la carte.
Camaret-sur-mer
Lat : 48.262746
Lng : -4.581622
0 m 2
Virer dans le chemin de gauche jusqu'à la fontaine Piriou. Emprunter le chemin du milieu qui serpente sur 1 Km entre les ajoncs et les bruyères pour atteindre un petit bois de pins et de cyprès.
Camaret-sur-mer
Lat : 48.265234
Lng : -4.60054
0 m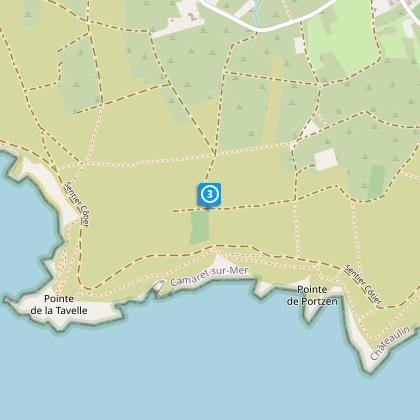 3
Bifurquer à gauche tout en suivant tout droit le large chemin tracé dans les bruyères et les ajoncs. Passer devant un rocher, rocher qui est le point culminant de la commune de Camaret à 64m.
Camaret-sur-mer
Lat : 48.255263
Lng : -4.589159
0 m 4
Tourner à gauche, puis une deuxième fois à gauche en suivant le balisage. Gagner Kerguélen en délaissant deux chemins à gauche sur votre passage. S'engager à gauche sur la route puis, au carrefour de Lannilien, se rabattre à droite pour retrouver, au bas de la descente, la chapelle ainsi que le parking de départ.
Camaret-sur-mer
Lat : 48.260592
Lng : -4.565663
0 m