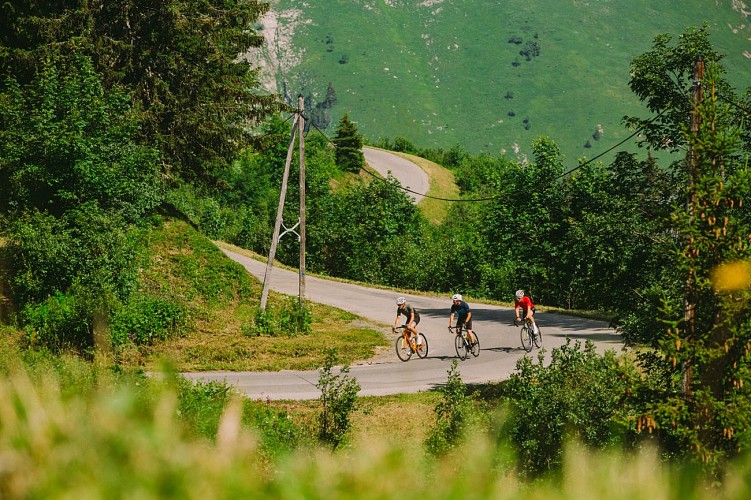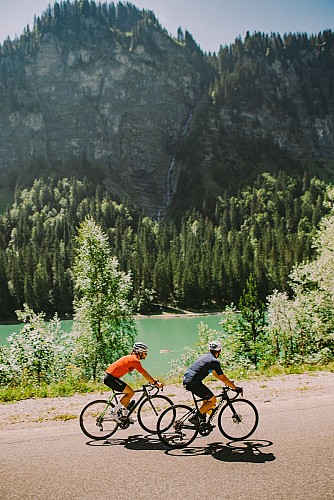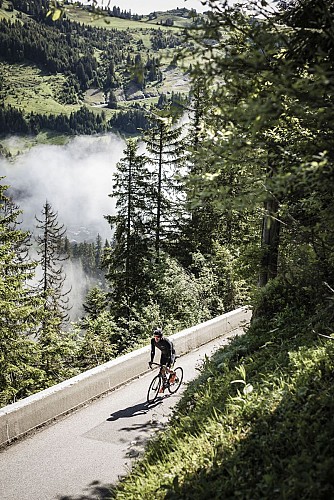 A steep-as-you-like climb which starts alongside beautiful Montriond Lake. A hard view to pass up, and certainly one to do on the way down. Watch out for the goats roaming free in Lindarets village! Gradient: 6%

This legendary col has featured in the Tour de France seven times.
Quite shady at first and consisting of steeper ramps between long false flats, the gradient kicks up to 10% after Montriond. Be careful when going through Les Lindarets, as it is not unusual to find herds of goats nonchalantly occupying the road! The final section of the climb is more regular, zigzagging up through the forest to the Col de Joux verte.
14 km

max. 0 m

min. 0 m

820 m

0 m
Starting point
74110 Montriond
Lat : 46.196669
Lng : 6.694386
0 m

La Ferme
Take time out from your winter skiing or summer excursions to enjoy...Read more
Lat : 46.209856
Lng : 6.77364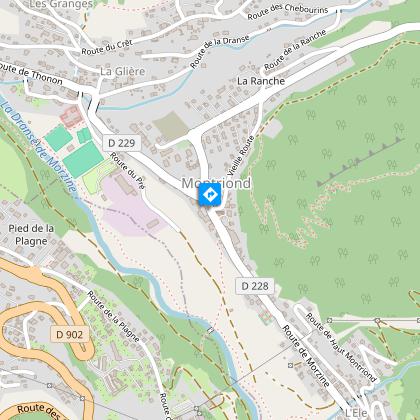 1

Hôtel du Lac
The restaurant « Hôtel du Lac » offers, for lunch...Read more
Lat : 46.209567
Lng : 6.721315
0 m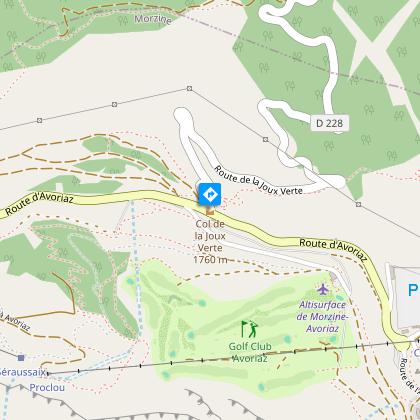 2

La Pomme de pin
For your dining pleasure, Eddie offers a varied menu: homemade specialties...Read more
Lat : 46.207989
Lng : 6.77658
0 m

Le Rocher
Whether you'd like to stop a while to enjoy the Savoyard specialities...Read more
Lat : 46.196713
Lng : 6.694182
0 m

Le Bout du Lac
In a fairytale setting, as its name suggests, this restaurant at the...Read more
Lat : 46.210612
Lng : 6.736085
0 m

La Crémaillère
Located between Montriond Lake and Avoriaz, in a small village where...Read more
Lat : 46.21071
Lng : 6.774037
0 m

La Terrasse des Lindarets
At the heart of the traditional goat village, La Terrasse at Lindarets...Read more
Lat : 46.210741
Lng : 6.773817
0 m

Mamo's Café
A family-run restaurant, Mamo's Café offers a range of...Read more
Lat : 46.207976
Lng : 6.776422
0 m

Restaurant les Clarines
Restaurant familial situé aux Lindarets, village des chèvres...Read more
Lat : 46.211404
Lng : 6.773504
0 m
3 informations complémentaires
Open period
From 15/05 to 31/10 : open daily (The winter annual closure of the road changes every year, depending of the weather conditions).