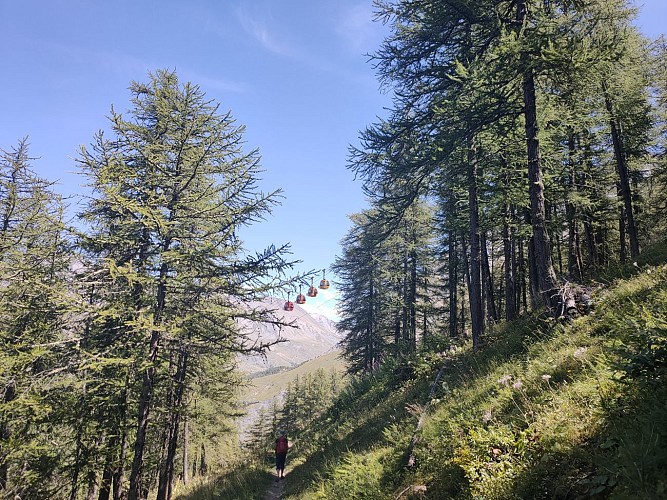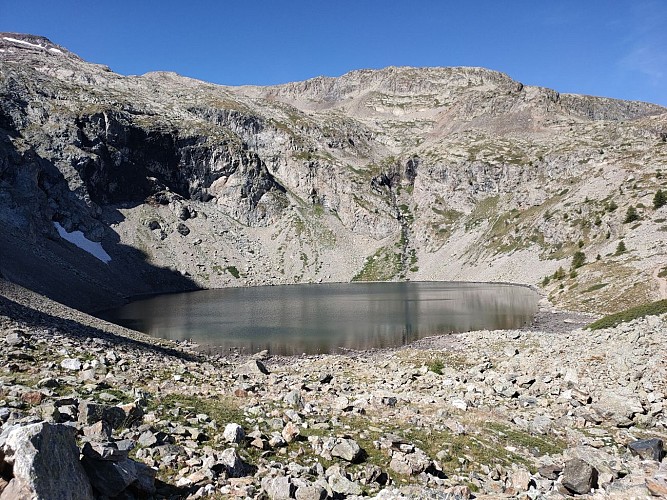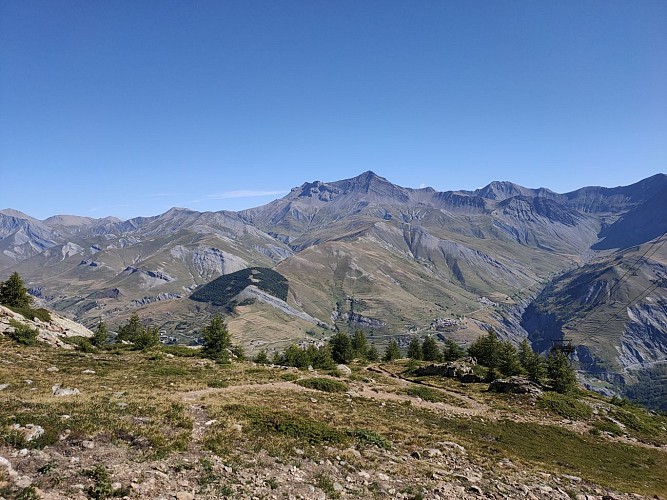 Trail running - Les Fréaux Vertical kilometer
Come and enjoy the breathtaking Fréaux vertical kilometre, through steep and sinuous single trails that will lead you up to Chancel Mountain Hut. Very little distance for a maximum of elevation gain, great overviews garantee!

This steep and demanding trail, starts from Les Fréaux village at 1370m above sea level and takes you up in the woods with as a landmark the yellow, orange and red gondolas of the Meije's Glaciers cable cars that will follow you most of the time. You will run past La Pierre Farabo, through Côte Fine to finish nearly at the top at Puy Vachier Lake. Behind you the view will open up on the Buffle and Goléon valleys, and from now only a few steps needed in order to reach the mountain hut. If the hut is open you will have the chance to enjoy a home cooked meal with a fresh drink on the terrace.
4.8 km

max. 2519 m

min. 1367 m

1200 m

1200 m

Altimetric profile
Starting point
Les Fréaux
05320 La Grave
Lat : 45.042728
Lng : 6.282969

Trail Running - The Aiguillon's loop
This run gives you the chance to visit the Romanche upper valley through...Read more
Lat : 45.044224
Lng : 6.301234
1450 m

Trail running - The Meije Marathon
This trail is a marathon that will lead you through secluded areas...Read more
Lat : 45.044224
Lng : 6.301234
1450 m

Trail running - The Meije trophy
The 26km trail run offers a great number of mountainous landscapes.Starting...Read more
Lat : 45.044178
Lng : 6.301242
1450 m
Date and time
From 01/05/2023 to 30/10/2023
From 01/05/2024 to 30/10/2024
4 informations complémentaires
Location complements
From La Grave, the Fréaux Village is situated 3km below when going to Bourg d'Oisans. Park your car and the starting point of the trail is at the other end of the village, near the river Romanche

Coming with a bus: LER 35, stopping in front of the tourism office at La Grave.

*It is totally possible to run/walk to Les Fréaux from La Grave*
Open period
From 01/05 to 30/10.

Subject to snow conditions.
Updated by
Office de tourisme des Hautes Vallées - La Grave - La Clarée - L'Izoard - 06/08/2023
https://www.lagrave-lameije.com
Report a problem