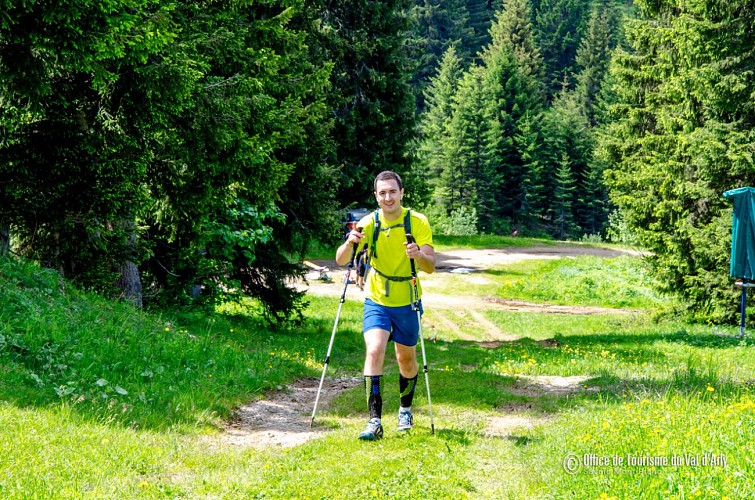 This course will make you discover the heights of Flumet in beginner version! Get started!

This route is taken counter-clockwise.
After leaving from the Flumet Tourist Office, descend towards the PLAN D'EAU then take the PONT DE CHAUCISSE, LA LANDELIÈRE, LE PRAZ, and the VILLAGE of St Nicolas la Chapelle. From there, descent towards BÉTHIERS, LA POULIÈRE, LA ROUTE DEPARTEMENTALE, before going up towards LE PONT DES MOTTETS, LES COMBES, LA COMBE SOUS LES PILES, CHEMIN DE LA COTTUAZ, and arrive at the VILLAGE of Crest-Voland. Again a descent on LE BOSTU, ON NANT ROUGE, LES NANTETS and continue towards the village of Notre Dame de Bellecombe by LA COUR, CHURCH OF BELLECOMBE, LA SCIERIE. End of the loop downhill via LA GERMANDIÈRE, CHURCH, CHEMIN DE L'ÉGLISE and return to the Tourist Office.
3.5 km

max. 1058 m

min. 890 m

170 m

170 m

Altimetric profile
Starting point
73590 Flumet
Lat : 45.817693
Lng : 6.51368

La Grande Bambée trail run
La Giettaz offers the the 3rd edition of its outdoor sporting event...Read more
Lat : 45.861761
Lng : 6.494973
0 m
Date and time
From 01/06/2023 to 31/10/2023
From 01/06/2024 to 31/10/2024
6 informations complémentaires
Reception complements
Duration: between 0h25 and 0h50.
Location complements
Start of the itinerary at the Tourist Office. Parking available next to the office.
Open period
From 01/06 to 31/10.
Reception conditions for animals
Pets allowed on a leash only.
Updated by
Office de Tourisme du Val d'Arly - 21/03/2023
http://www.valdarly-montblanc.com
Report a problem