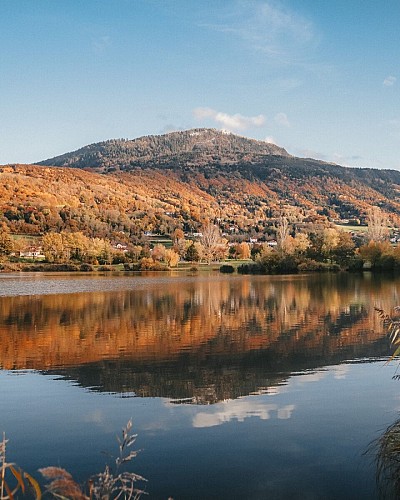 Perfect for a first experience of a "red level" circuit. You'll especially enjoy the little Col de Saxel (943 m), which is ideally positioned at the half-way point and has all the right characteristics for an introduction to mountain biking!

Direction of travel: clockwise
Landmarks and connections: Ville-la-Grand (shared departure with Balcons d'Annemasse no. 26, Circuit de la Vallée Verte no. 28 and the Annemasse / Thônes link route no. 23); Machilly (leave Balcons d'Annemasse no. 26); Brens (leave the Annemasse / Thonon-les-Bains link route no. 23); Bons-en-Chablais (leave Circuit de la Vallée Verte no. 28); Boëge (return route shared with Circuit de la Vallée Verte no. 28); bridge at Morand (leave the RD20 main road, don't miss the turn-off) Regional rail network stations: Machilly, Bons-en-Chablais
Description: To complete the circuit of this modest cluster of mountains in the foothills of the Alps, which is completely covered in forests (summit 1,480 metres), you must ascend the Col de Saxel. But there's no need to worry: the gradient is very steady and never exceeds 5% over a distance of 8 km. Added to that, it's well shaded and faces north-east, so the sun is never overpowering; you could say that this is a "mountain pass training school" for learner mountain-bikers! The route itself is not difficult to follow, nor is it particularly dangerous. One way and another, this route has a lot to recommend it. But make sure you don't miss the turn-off from the RD20 main road when you reach the bridge at Morand, at the bottom of the descent from the valley. The mini balcony route that is suggested to get back to La Bergue and then Cranves-Sales keeps you off busy main roads until you reach the outskirts of Annemasse.
49 km

max. 944 m

min. 435 m

530 m

0 m

Altimetric profile
Starting point

74100 Annemasse
Lat : 46.195
Lng : 6.23586
0 m

Rue du Commerce 74100 Ville-la-Grand
Lat : 46.2029
Lng : 6.24979
0 m

Lac de Machilly
With its source in the Voirons massif, the Foron is a waterway which...Read more
à coté du practice du lac (golf) 74140 Machilly
Lat : 46.2557
Lng : 6.32774
0 m

Castle of Saint Michel d'Avully
Beautiful castle built on former roman vestiges in the 12th Century,...Read more
465 Chemin d'Avully 74890 Brenthonne
Lat : 46.2718
Lng : 6.40118
0 m

The "grenette" in Boëge was used to weigh grain and press fruit until...Read more
Place des marronniers 74420 Boëge
Lat : 46.2086
Lng : 6.40557
0 m
4 informations complémentaires
Open period
From 15/04 to 31/10.
Accessible outside of snowy periods depending on weather conditions. Contact the Tourist Office beforehand for information on current access conditions.
Updated by
Conseil départemental de la Haute-Savoie - Pôle Animation Territoriale et Développement Durable - 05/12/2018
Report a problem