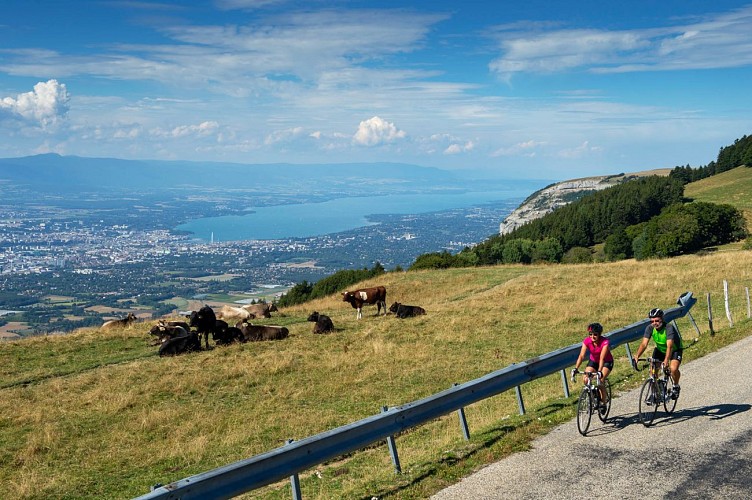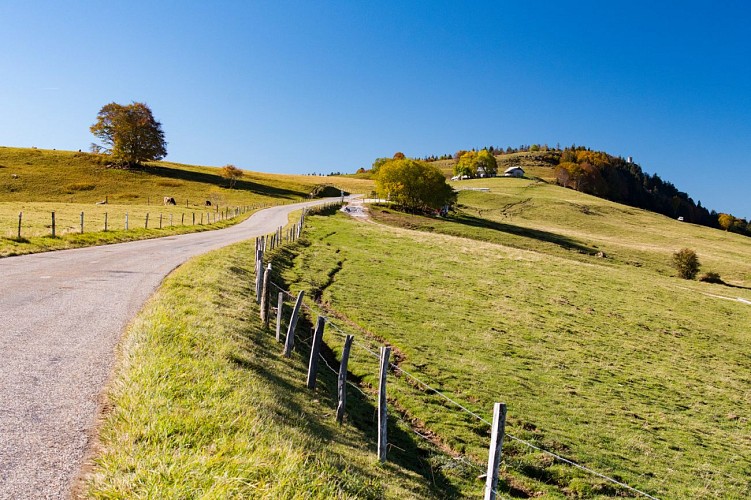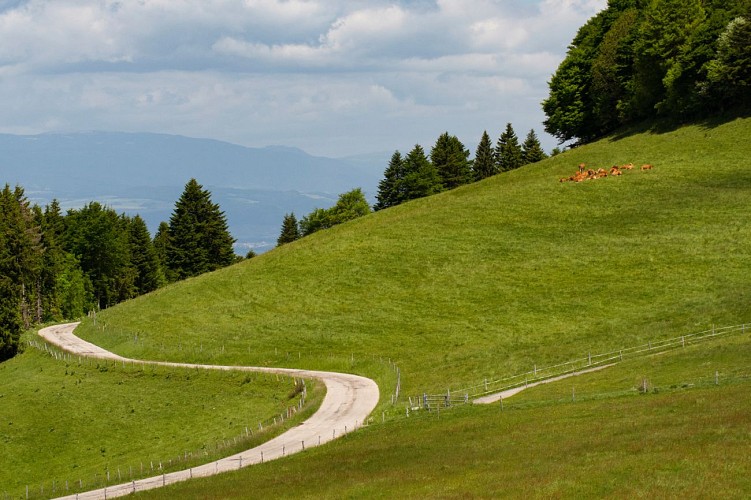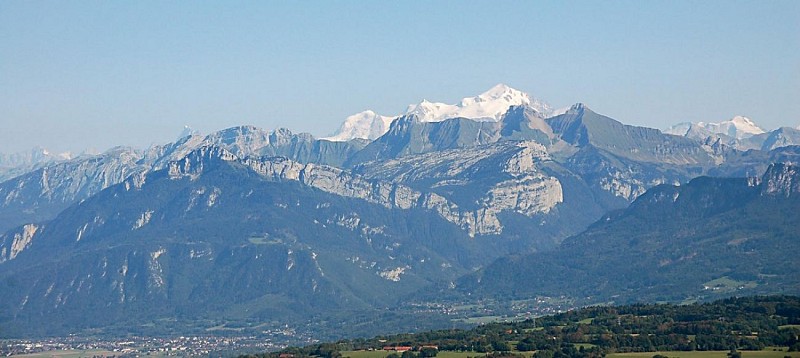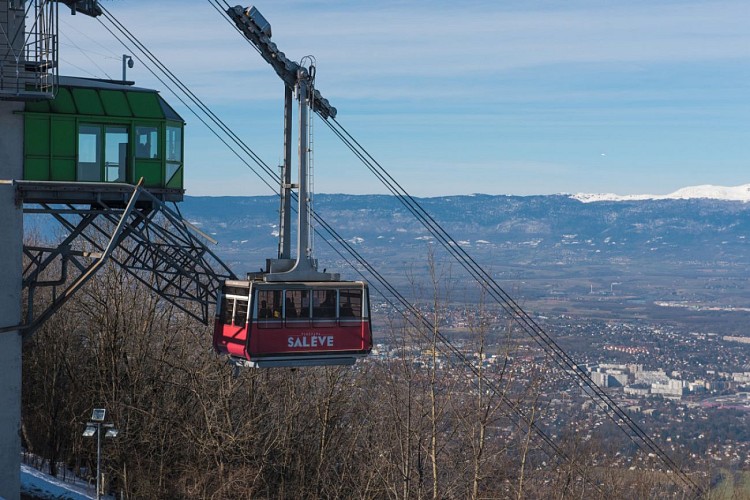 Crossing Le Salève this way, you won't encounter any gradients over 6%. This allows you to admire the famous panoramic view of Lake Geneva! When you set off from Annecy you go across (on foot) the impressive Caille bridge.

Direction of travel: clockwise
Landmarks and connections: From Annemasse: common route along the north Plateau des Bornes, 1 km from the river Avre crossing to the RD2/RD15 junction. ; Cruseilles (meets the Plateau des Bornes south route n°21). Train station TER: Annemasse - Annecy information: inhabited for more than 12,000 years, the Salève mountain has been a tourist attraction for more than a century. Since 1893 it was served by the world's first funicular railway, which has since been replaced by a cable car used often by the people of the Genevois region. The French term "varappe" (meaning rock-climbing) comes from Salève, being the name of a rocky cave found in the cliffs overlooking Geneva. Departing from Annemasse, the RD15 will take you along the mountainside to reach Salève from the south. The direct ascent through Monnetier-Mornex contains a section with a gradient in excess of 17%, and is not advised. Instead, a short and interesting alternative would be to make the ascent directly at the Croisette from Muraz (RD15). From Cruseilles the RD41 will take you to the summit of Salève with many interesting viewpoints along the way. On the recommended route, you will find yourself a stone's throw away from Grand Piton (1379 metres) which is the summit of Salève. You will then make a short descent onto the Croisette where you will find a panoramic viewpoint. After another short climb, the route ends with a descent down Monnetier-Mornex (very steep!) before arriving back at Annemasse.
61 km

max. 0 m

min. 0 m

1100 m

0 m
Starting point
74100 Annemasse
Lat : 46.192844
Lng : 6.236984
0 m

07 - Circuit du Pont de la Caille
A short climb at Allonzier. The return route follows the Tour of La...Read more
Lat : 45.902418
Lng : 6.12992
450 m

01 - Tour du Lac d'Annecy
You can do it! The signposted direction was chosen to make the only...Read more
Lat : 45.902418
Lng : 6.12992
450 m

02 - Tour du Mont Veyrier
A steep climb at the beginning. Be careful not to miss the right turn...Read more
Lat : 45.902418
Lng : 6.12992
450 m

3-Tour of the Tournette
One of the area's great classics, with a beautiful descent between...Read more
Lat : 45.902418
Lng : 6.12992
450 m

04 - Belvédère de la Forclaz
If you hate steep climbs, this is not the ride for you. Great view...Read more
Lat : 45.902418
Lng : 6.12992
450 m

05 - Tour de la Montagne d'Age
An easy tour to see the hidden-side of this little mountain from Annecy.
Lat : 45.902418
Lng : 6.12992
450 m
Date and time
From 15/04/2023 to 31/10/2023
From 15/04/2024 to 31/10/2024
4 informations complémentaires
Location complements
Car Park: La Libération
Contact
Phone : 04 50 95 07 10

Email :
ot@montsdegeneve.com
commercial@montsdegeneve.com

Website :
https://www.hautesavoiexperience.fr
https://www.savoie-mont-blanc.com
http://www.montsdegeneve.com

Facebook : www.facebook.com/montsdegeneve/

Open period
From 15/04 to 31/10.
Accessible outside of snowy periods depending on weather conditions. Contact the Tourist Office beforehand for information on current access conditions.
Updated by
Conseil Départemental de la Haute-Savoie - 15/03/2023
https://www.hautesavoiexperience.fr
Report a problem