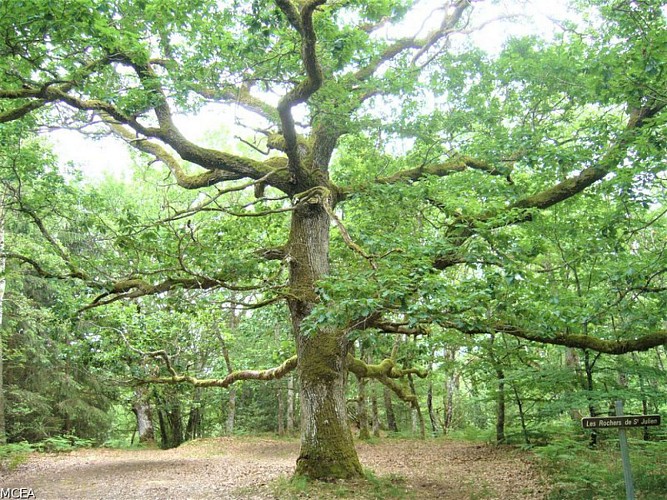 From Peru to the rocks of St Julien
Between ponds and forests, this walk will allow you to enjoy what nature has to offer. Take time to enjoy the peace and quiet. Here there is no need to run.Walk down to the church. In front of the church porch, take the small street going down, turn left, and follow the Rue des Bois.Turn left, follow the Rue des Jardins, then turn right and continue to the Gendelauds well.Turn right onto Rue Fontille and take the first path to the left, then continue straight ahead along the grassy path to the roadTurn left to return to the village; at the stop sign, follow the street and then turn right, down towards the Place de la Mairie. Go along the square to the crossroads with the Le Montel de Gelat/Auzances roadCross the D road, and continue to the cemetery; turn around and then turn right into Rue des Puits.Turn left, cross the road again and go straight on until you reach the post officeAt the crossroads, turn right onto the Route de Charensat as far as the Croix St Antoine crossroads; take the path to the right. Go past the Rochers de St Julien sign to access the site and its description.Turn around to return to the starting point
4.3 km

max. 684 m

min. 623 m

0 m

0 m

Altimetric profile
Starting point
Lat : 45.988484
Lng : 2.55963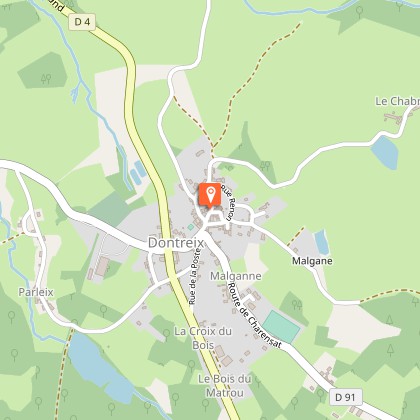 1
Eglise du XIIe siècle complétée par un clocher-porche du XVe siècle. Le vitrail de l'Ascension est la copie d'une partie de celui de la cathédrale de Poitiers. L'église comporte aussi 6 vitraux « Art Déco ».
Dontreix
Lat : 45.9877
Lng : 2.55974
n/a m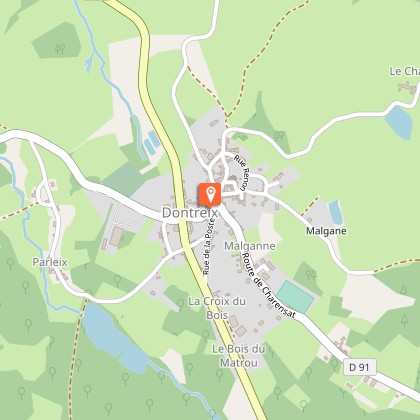 2
A l'époque les puits étaient des points de rencontre entre les habitants du village, venus chercher de l'eau ou abreuver leurs animaux. Ce puits est daté de 1888, il contient aujourd'hui une statue de la Vierge.
Dontreix
Lat : 45.9868
Lng : 2.55913
n/a m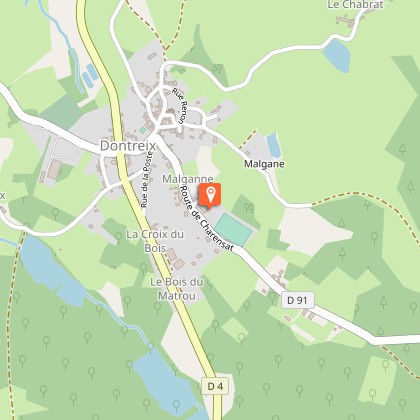 3
Sculpture signée Hall WILSON en 2000. St Julien est centurion de l'armée romaine au IIIe siècle. Converti au christianisme, il se réfugie en Forêt de Drouille lors des persécutions avant d'être décapité à Brioude. Il est représenté avec la palme du martyre et un glaive.
Dontreix
Lat : 45.9848
Lng : 2.56181
n/a m
5 informations complémentaires
Departure
The Virgin's Parterre, Dontreix
Arrival
The Virgin's Parterre, Dontreix
Ambiance
The Tardes is a popular river for fishermen, especially for brown trout.
Access
Leave Auzances and take the D988 towards Clermont-Ferrand for 7 km and enter Dontreix.
Advised parking
The Virgin's Parterre, Dontreix