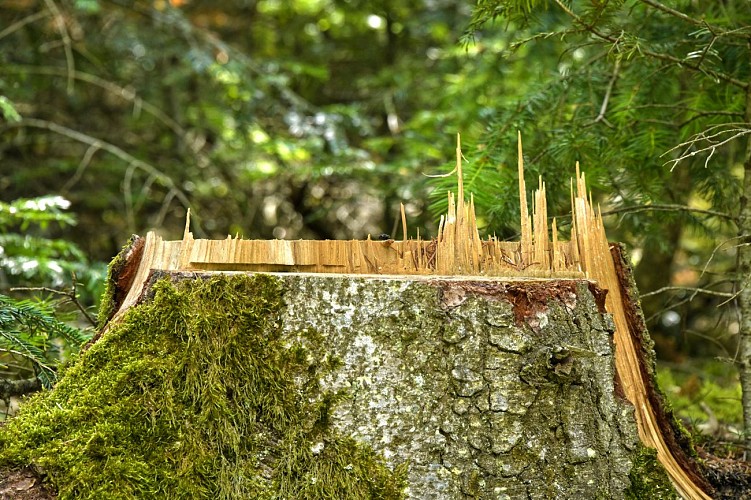 The forest of Brou in Nordic walking - Beaujolais - Dième
The Attractions of the Route

An immersion in the forest from the first to the last kilometre. Paths suitable for Nordic walking and trail running.

A setting worthy of the effort, particularly towards Roche Saint Martin, a dense mixture of shade and freshness intensified by the majestic Douglas fir trees.

Panoramas: Roche Palais go 200 metres off the route to admire the Tarare mountains. At the Relais, the orientation table faces the Azergues Valley, the Alps and Pilat. Then, 300 metres away, at Roche St-Marin, the north-east of Beaujolais offers itself to the gaze.

When and how to take advantage of it?

Do not be impressed by the steep drops from the start of Pierre Blanche. After the big rains, when the waterlogged mountain makes the streams swell and fills the forest with the sound of the torrents. Summer in the shade of tall protective trees. Fog or admire the vegetation silvered by frost. By learning to differentiate the branch of the silver fir, pricked with needles arranged like a comb, from that of the Douglas fir, whose needles are implanted in an anarchic manner; rubbing them gives off a citrus scent.
11 km

max. 746 m

min. 421 m

345 m

0 m

Altimetric profile
Starting point
Paking Dième – Ruisseau de Brou situé dans la forêt, accès par la RD106 au sud de Dième
69170 Dième
Lat : 45.947764
Lng : 4.483621

Brou Forest
Dive into the heart of nature in the departmental forest of Brou!...Read more
Lat : 45.952701
Lng : 4.476242
0 m
3 informations complémentaires
Open period
All year round.

Subject to favorable weather.
Updated by
Rhône Tourisme - 05/11/2022
http://www.rhonetourisme.com
Report a problem