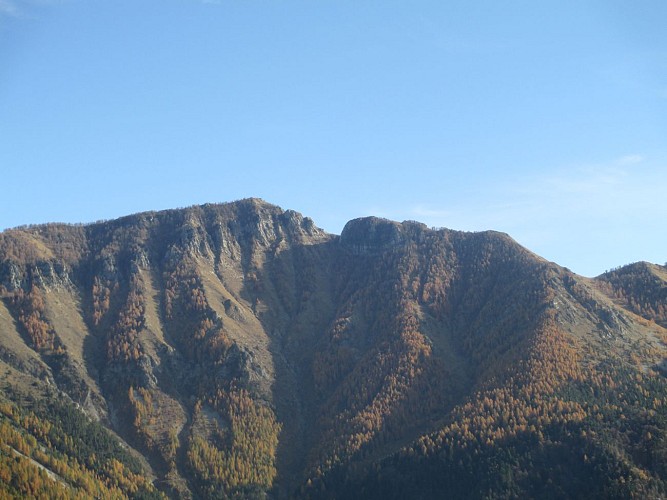 A great panorama on Ligury country side

The commune of La Brigue, which remained Piedmontese in 1860 when the County of Nice was joined to France, became French in 1947 with its neighbor Tende. But the Ligurian slopes of the town and the 4 hamlets they shelter remained Italian.

This route aims to catch up with history by climbing the top of Marta (2,135 m) and walking along the border towards the head of Nava. Ideal viewpoint over Italian Liguria and the eastern Mercantour, the border ridge delimits the immense coniferous forest (mainly fir trees) which populates the ubac dominating La Brigue, an important forest commune in the Alpes-Maritimes with its some 4,100 ha. of wooded area.
Departure from the Géréon drop to 1254 m by waypoint 251. Follow the path that goes deep into the fir trees in the direction of waypoint 252. The ascent of the Rionard ridge first discovered, after waypoint 252, we made cross a larch tree while gaining altitude. The slope is increasingly steep, a fortified structure is accessible just at the edge of the path (access not recommended, adapted equipment required) and the panorama over the north of Haute Roya begins to reveal itself. The rocky bars of Marta's balcony are within easy reach, a last effort through a climb of switchbacks will take you to the Marta plateau at marker 253 (2000 m). Watch out for any herds that you might come across at this level. Turn right to reach Marta's balcony at 2122 m. Possibility to access the underground fort, again access not recommended without preparation (physical, material). A 360 degree point of view awaits you on the point of the balcony. Join the dome of the old observatory very close to an antenna to enjoy a breathtaking view: to the south Ventimiglia and the Mediterranean side; to the north, the Col de Tende and its Fort Central. Pair of binoculars recommended! Return via the ascent route towards the Géréon drop.
Possibility of combining, or on the occasion of another outing, the summit of Marta called Mont Vaquet at 2,135 m for another panorama as impressive as that from the balcony.
9.5 km

max. 2098 m

min. 1252 m

870 m

870 m

Altimetric profile
Starting point
Baisse de Géréon (1254 m)
06430 La Brigue
Lat : 44.00901
Lng : 7.64039
Date and time
From 01/05/2023 to 01/11/2023
3 informations complémentaires
Open period
From 01/05 to 01/11.