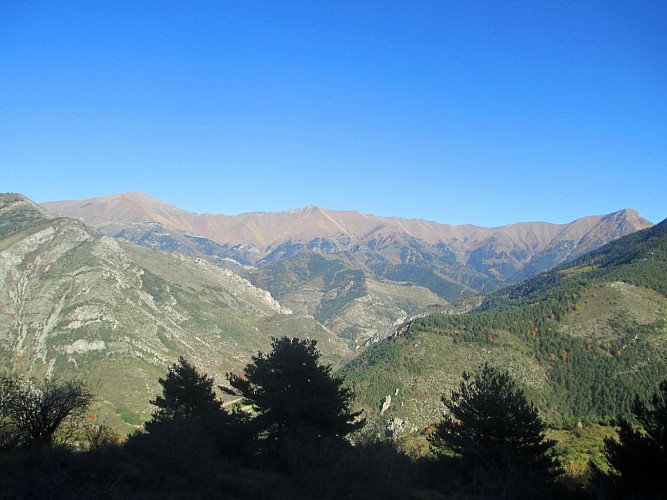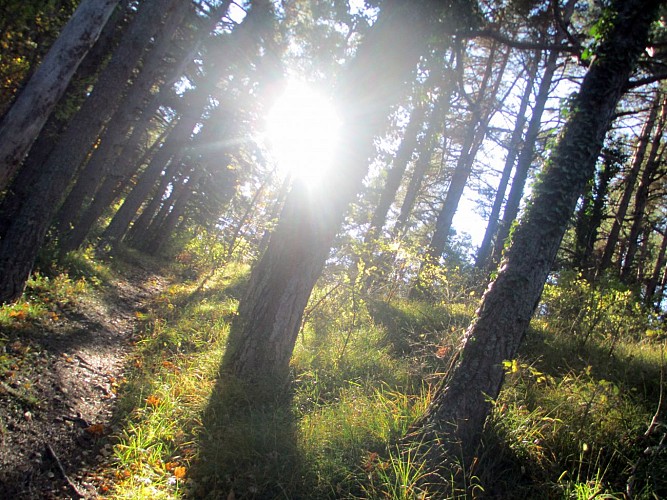 Hiking circuit of Baisses Arpèse - Peluna - Durasque - Géréon
An air of GR on the heights of Roya ...

From the ruins of Château Lascaris at the beacon 47, follow the path that climbs towards the Arpèse drop (1288 m.) Passing by the beacon 43 (intersection). Always follow the path that rises and lets you discover the landscape around the village of La Brigue. After tag 46, a plateau offers a beautiful panorama of the natural setting in which the village is nestled. The woods and the forest give way to a rocky climb via the tag 243 (possibility of going back down to the village by following the path at the intersection), locality of Riodore where we find ruins and old agricultural boards. Finally, the drop to Arpèse at the level of beacon 244, continue towards the drop of Peluna beacon 245, following a track for 500 m. There you will find an oratory and a small green square. These old tracks were used for military purposes, and the area is full of casemates and other fortified structures that can still be visited (provide adequate equipment, beware of risks). Then follow the forest track slightly uphill (rocks and gravel, DFCI sign) from the top of Durasca towards point 1437 towards the south. As you progress, the landscapes of the Roya valley are revealed; when you arrive at the Durasca pass (flat similar to a drop), do not hesitate to follow a secondary track slanting to the right which will lead you to a viewpoint (point 1485) at the top of the Durasca summit, guaranteed panorama. Retrace your steps to take the trail back down. At the next bend, enjoy the view of the top of Marta. Continue on the track until you find a path that goes to the right (via point 1320) to reach the oratory of the Géréon drop, towards the 251 beacon. It is from this drop that you can reach the famous Balcony of Marta. At this level the direction to follow is a one kilometer track which descends towards the markers 246 and 247 and which begins the descent towards the bottom of the valley of Meurgiora, until the marker 248. Follow the track to find the road.
14 km

max. 1470 m

min. 762 m

776 m

776 m

Altimetric profile
Starting point
06430 La Brigue
Lat : 44.043576
Lng : 7.605382
3 informations complémentaires
Open period
All year round.
Updated by
Office de Tourisme Menton, Riviera & Merveilles - 14/06/2023
https://www.menton-riviera-merveilles.fr/boutique/
Report a problem