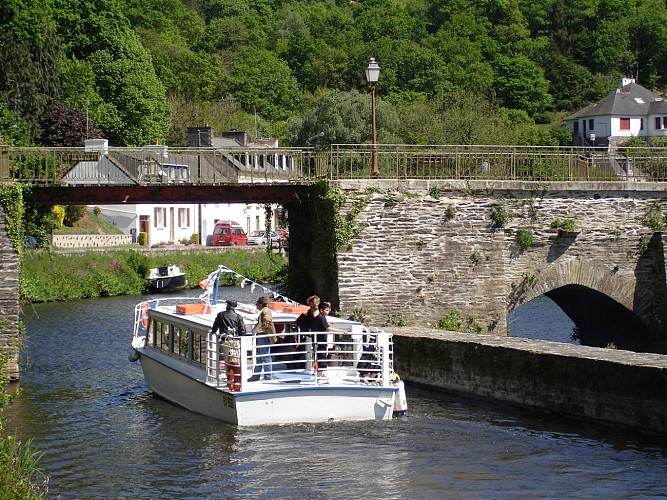 Credit : Canal de Nantes à Brest
In the heart of the Black Mountains, the Penn ar Pont circuit will take you to Nantes-Brest canal, an integral part of Brittany's history. You'll notice the remains of a slate quarry, whose tunnels are now home to some of the largest bats in Brittany, the Greater Horseshoe Bat. You'll pass two locks before leaving the tow path and heading in to the countryside around Châteauneuf, with its woodlands and streams. The path then joins up with another trail 'In the footsteps of Paul Sérusier', which is dedicated to the painter who lived in Châteauneuf du Faou. You'll cross a street named after him and discover this painter's 'green valley'.
14 km

max. 130 m

min. 35 m

77 m

-69 m

Altimetric profile
Starting point
1439 Écluse de Penn ar Roz
29520 Châteauneuf-du-Faou
Lat : 48.1835
Lng : -3.81042
0 m

1
Étiré sur 360 km, pas moins de 236 écluses rythment le passage des embarcations sur le Canal de Nantes à Brest.
Chateauneuf-du-faou
Lat : 48.1784
Lng : -3.81822
0 m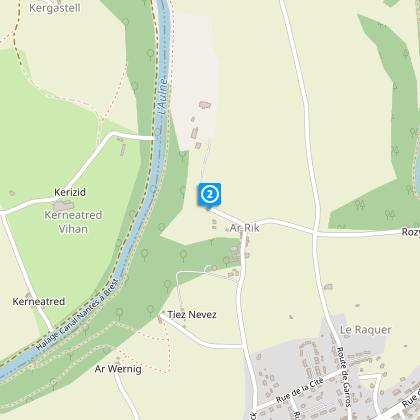 2
L'industrie ardoisière s'est beaucoup développé au XIX ème siècle le long du canal de Nantes à Brest, celui-ci facilitant le transport fluvial des ardoises.
Saint-goazec
Lat : 48.1703
Lng : -3.78864
0 m

3
Elle date de 1904.
Chateauneuf-du-faou
Lat : 48.1927
Lng : -3.81949
0 m

4
Variante de 1km aller-retour.
La Fontaine Santig Gouenou se trouve dans le bois de Kermoal. Ce Saint est né en Ecosse dans une famille aisée. Fuyant les saxons, il débarque en Bretagne où après 24 années d'épiscopat,
il succombera à des blessures causées par un lourd marteau qui le frappera à la tête, le 25
octobre 675. On y pratiqua le culte, vraisemblablement jusqu'à la fin du 18ème siècle. Son souvenir sous la forme d'une dévotion mi-religieuse mi-païenne, persistait encore dans la 1ère moitié du 20ème siècle.

Chateauneuf-du-faou
Lat : 48.1909
Lng : -3.80397
0 m

5
Découverte de la chapelle Notre Dame des Portes, circuit Paul Sérusier, vue sur le château de Trévarez.
Chateauneuf-du-faou
Lat : 48.1862
Lng : -3.80592
0 m