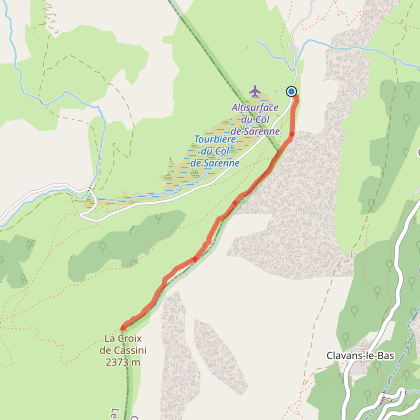 La Croix de Cassini (from le col de Sarenne)
This path crosses a high ridge and includes a number of difficult stretches. At the summit, la Croix de Cassini offers a 360o panorama of all the surrounding peaks and ranges (Grandes Rousses, Aiguilles d'Arves, Taillefer, Meije, Râteau...).

The Écrins range is the most extensive range of glaciers in France.
From the Col de Sarenne, or for walkers from La Croix de Cassini, the glacial landscape is very varied with the La Muzelle glacier and, notably, the complex which includes the Mont de Lans, Muretouse, Girose, Enfetchores, La Meije and Tabuchet glaciers which reach a height of almost 4,000 m. The superb panorama includes glaciers of all types: dome-shaped, icefalls or hanging glaciers. It is a unique opportunity to discover crevasses, rimayes, ice tongues, seracs and moraines.
From the summit of La Croix, it is easy to see why, in the 17th century, the geographer Cassini, had good reason to choose to map this part of the Écrins range from this peak.

Practical information
Starting point : Col de Sarenne
Period: june ans september

To see
Along the way :
• The sheepfold at the Col de Sarenne
• Mountain pastures at Grange Pellorce

Nearby :
The village of Clavans in Haut Oisans, with its fountains, small squares, church and old houses
In Alpe d'Huez :
The Musée d'Huez et de l'Oisans
Notre Dame des Neiges Church with its striking architecture, its unusual organ shaped like a hand reaching up to the heavens and its 13 stained glass windows depicting scenes from the gospels.
2.1 km

max. 2201 m

min. 1980 m

254 m

-53 m
Starting point

38142 Clavans-en-haut-oisans
Lat : 45.0874
Lng : 6.14904
0 m
1
From the refuge, the path begin on the other side of the road, on the left and follows the ridge to the Cassini Cross.
Route du Col de Sarenne 38142 Clavans-en-haut-oisans
Lat : 45.0874
Lng : 6.14895
0 m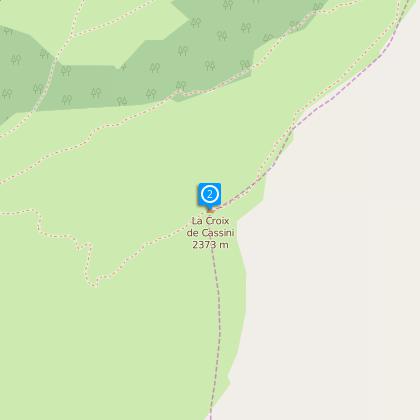 2
This point of view is panoramic. Ideal for picnic.
Return by the same route or continue the path until the road of the col on the right.
Route du Col de Sarenne 38142 Le freney-d'oisans
Lat : 45.0732
Lng : 6.13448
0 m