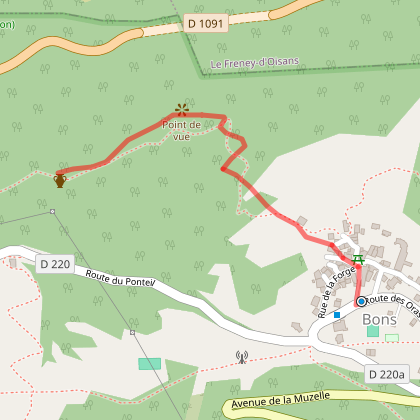 As you leave the departure point in the hamlet of Bons, you are treated to a panoramic view of the Ferrand valley, Auris' sunny slope and the Sarenne glacier dominated by the Pic Blanc. Then a footpath shaded by a cool deciduous forest will lead you to the "Porte Romaine".

The heritage of Oisans provides evidence of human activity from the earliest times, such as the Bronze Age when copper was mined in the Grandes Rousses range. The number of historic remains grew as time moved on. The Roman period brought the Voie Romaine d'Oisans (Roman road), streches of which can still be seen today at Rochetaillée and Bons. From the Middle Ages, we have the village of Brandes, where the inhabitants operated a silver mine. More modern times are represented by the numerous chapels, oratories, wash houses, fountains, ovens and sundials which adorn our villages. Add to that the coal mines of l'Herpie, the silver mines of Chalance and the gold mines of la Gardette. Remarkable industrial architecture, such as the Les Vernes power station, resulted from the building of hydroelectric power stations in the Livet-Gavet valley.

Practical information
Starting point: Bons
Period: mai à octobre

To see
Along the way:
• La "Porte Romaine", a monumental arch carved into the rock, is currently arousing growing interest from a historic and archaeological point of view. Many recent studies have reached the almost certain conclusion that the Roman road from Turin to Grenoble really did pass through this area
• The Roman gate in Bons

Nearby:
• In Mont de Lans:
Musée Chasal Lento
• In Les 2 Alpes:
The international ski resort of Les 2 Alpes can be reached free of charge by ski-lift from Mont de Lans
The Maison de la Montagne in Les 2 Alpes
• Lac de la Buissonnière
810 m

max. 1307 m

min. 1242 m

1 m

-65 m
Starting point

38860 Mont-de-lans
Lat : 45.0352
Lng : 6.11511
0 m

1
From Bons follow signs for the Bons roman gate. The path descends through the forest.
Bons 38860 Mont-de-lans
Lat : 45.0352
Lng : 6.11512
0 m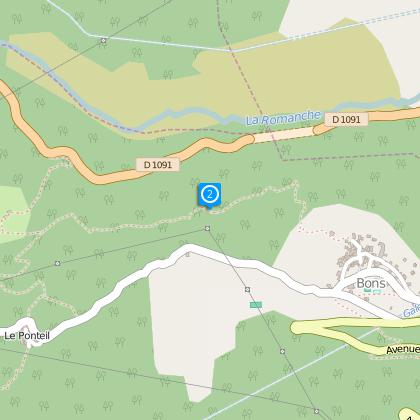 2
After the discovery of the Roman gate, you can continue the path back to the road and join Bons hamlet. Otherwise return the same way.
Bons 38860 Mont-de-lans
Lat : 45.0371
Lng : 6.10857
0 m