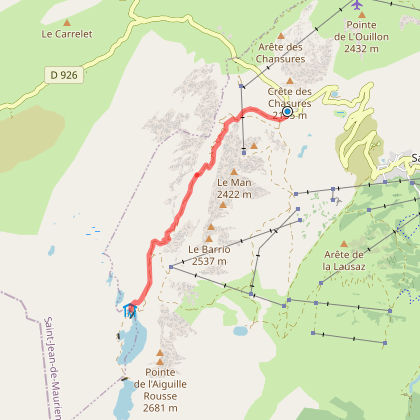 From the mountain pass, take the track (closed to vehicles) off to the right. Follow the bends up to the northern pass before you descend to the refuge which is located at the foot of the dam at the Lac Bramant. Accessible to everyone, the path has no particular danger. As the main refuge of Les Grandes Rousses, it offers an access to the glacier and the summit of the Etendard, in a beautiful alpine lakes setting.

Altitude: 2 430 m
IGN map n°3335 ET or n°3435 ET

From the hut :
Hiking, ski touring
- Dôme de la Cochette (3041m): 3 hours
- Aiguille de la Laisse (2879m): 2 hours
- Crossing to Clavans, and the Alpe d'Huez.

Montaineering and ski touring
- L'Etendard (3464m): 4-5 hours of PD glacier climbing
- Cîme de la Valette (2858m) : 3 hours
F climbPic du Grand Sauvage (3216m) : 3 ½ hours
4.4 km

max. 2525 m

min. 2064 m

493 m

-116 m
Starting point

73530 Saint-sorlin-d'arves
Lat : 45.2276
Lng : 6.20257
0 m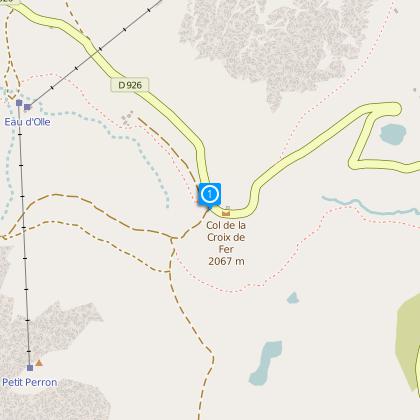 1
Since the car park the route to the refuge is easy, follow the track.
D926 73530 Saint-sorlin-d'arves
Lat : 45.2276
Lng : 6.20264
0 m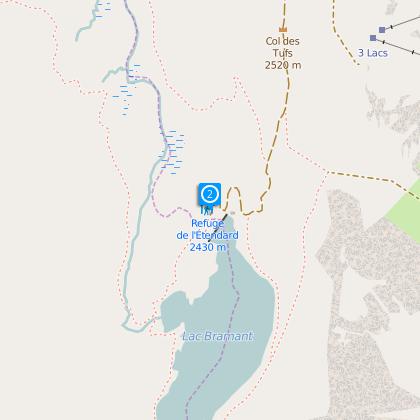 2
The refuge offers the opportunity to fish in the lakes, to go mountain-biking or even to go hiking with donkeys.
The Etendard, the Barbarate or the Quirlies are wonderful destinations for climbers or those practising ski touring.
D926 73130 Saint-sorlin-d'arves
Lat : 45.2038
Lng : 6.17547
0 m