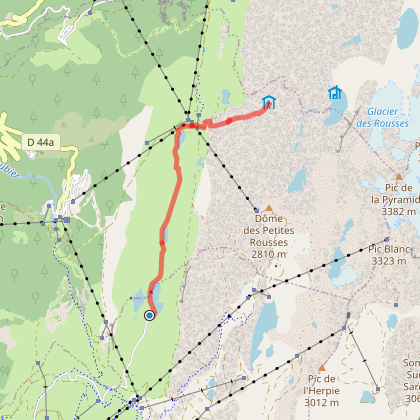 Two ways are possible to reach the hut: the less sportive can simply take the Alpette cable car from Oz or Vaujany resorts, and then climb the remaining 300 m of height gain in one
hour. Second possible way, the « normal road »: go to the end of the small road after the Alpe d'Huez, that goes over the Col du Poutran, and start off from the car park at the Lac Besson. You can see nearby a true goelogical curiosity: ripple-marks on a small slab of rock, witnessing the return of the sea during the Seconfary Era. Almost flat, the path to the refuge only starts to climb after the Alpette fork. It will delight lovers of flora and wildlife: the banks of the Lac Besson and the Lac Faucille are abound with marmots, cotton-grass and even some types of carnivorous plants which, fortunately, eat insects rather than children's fingers! The last possibility for good walkers to reach the refuge is to start from the hamlet of Bessey in Oz-en-Oisans following the GR549 path (4 hours).
The refuge itself has a particular history, having even been a temporary hospital during World War II. No phone, water outside, and truly small… But you won't find a friendlier refuge !

Altitude: 2 280 m
IGN map n° 3335 ET
Path OBP n° 264, 262

From the hut :

Hiking
- Many hikes are possible from the hut, and the best known are the tour of the Lacs des Grandes Rousses (seven lakes in 6 hours), or the descent to Vaujany via the Lac de Balme Rousse and the Col du Couard
(2234m).
- Descent also possible to Oz resort via the Plan du Cerf.

Mountaineering
--The refuge is a base camp for climbing the main summits of Les Grandes Rousses: the
Pic de l'Etendard (3464m) via the Col de la Barbarate, or the Pic Bayle (3465m) via the Col de la Pyramide.
4.4 km

max. 2325 m

min. 2019 m

366 m

-118 m

Altimetric profile
Starting point
Route des Lacs
38750 Huez
Lat : 45.1157
Lng : 6.08683
0 m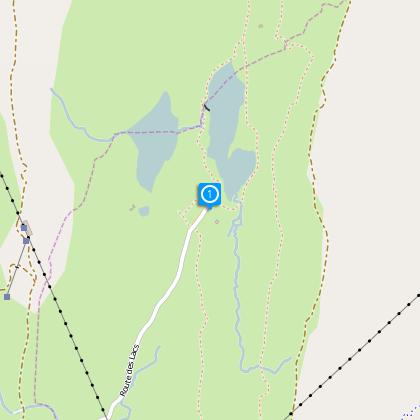 1
At the parking of Lake Besson start hiking by crossing the lake plateau. Until Alpette the drop is almost zero. Then walk up to the refuge.
Route des Lacs 38750 Huez
Lat : 45.1156
Lng : 6.08694
0 m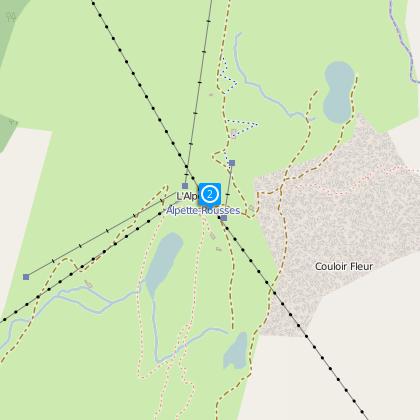 2
Une fois le plateau des lacs traversé vous arrivez au niveau du téléphérique de Vaujany. Le chemin continue sur la droite et commence à monter en direction du refuge (à gauche quand vous êtes face à la montée). En une heure environ vous rejoindrez le refuge.
Téléphérique des Grandes Rousses 38114 Oz
Lat : 45.1388
Lng : 6.09402
0 m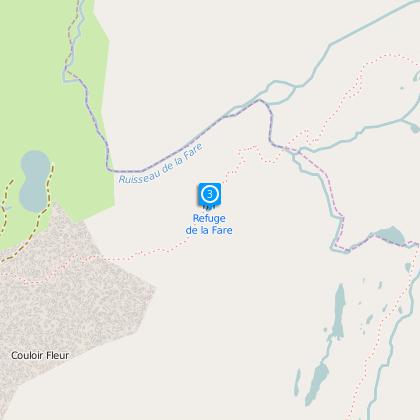 3
Park your car at the Besson chalet and begin the hike walking along the three lakes.
Carrelet et au Creux 38114 Oz
Lat : 45.1415
Lng : 6.10705
0 m