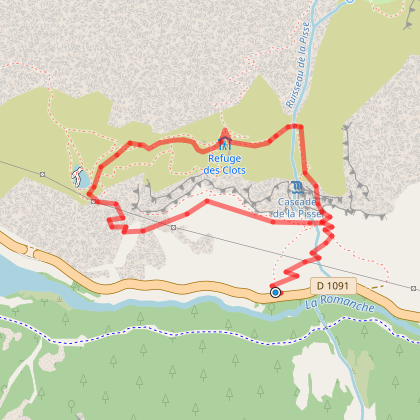 Via ferrata of Mizoën "Le voile de la mariée"
The Cascade de la Pisse via ferrata is no soft touch! Athletic, long and airy, this is a real first step into the vertical world!

Technical informations :
Time : 3h (20 min approach walk; 1h30/2h ascension; 1h return by another via ferrata route or 2h by the path)
Difficulty : D+
Start : 1240 m
Heigh gain : 250 m
Orientation : south
Period : june > october
Guides, maps : Top 25 IGN, 3336 ET, Les 2 Alpes.
Les via ferrata autour de Grenoble et Briançon, éditions Glénat.
Toutes les via ferrata de France, éditions Libris.

The route follows the waterfall all the way. There were no escape routes, but a fine rocky plateau halfway up makes a good resting place. This is a very steep via ferrata, so prepare your arms for 250 m of cable climbing. Once at the top, the Refuge des Clots hut is just a five-minute walk away. You can return on the via, which descends the other side of the hut - it's very unusual to be able to do a round trip on a via ferrata (return time is 1 hour). The other option is to take the path to Les Aymes, walk down to the road and to the car park (return time 2 hours).

The Emparis Plateau
The origin of the name is Celtic and allegedly comes from "Par", meaning exposed to the sun. In its wettest areas, the plateau is covered with an aromatic sweetgrass, used in Central Europe to flavour vodka.This is of course the famous bison grass. This mysterious plateau, reminiscent of the steppe and the Arctic tundra, is a vast sunny balcony, in perfect contrast to the rocky, icy chaos of La Meije, just opposite. This exceptional place has been listed and protected since 1991.
2.8 km

max. 1523 m

min. 1084 m

577 m

-478 m
Starting point

38142 Mizoen
Lat : 45.039
Lng : 6.18512
0 m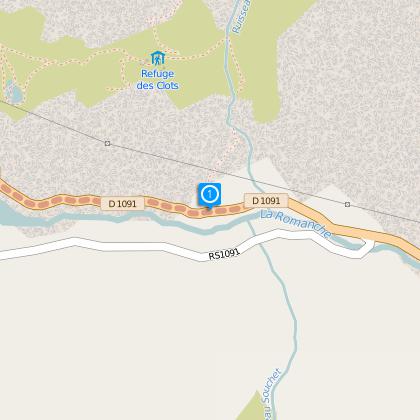 1
Drive over the Chambon dam and park just after the small tunnel at the end of the lake, on the left. The path and the via ferrata information board are on the left, 50 m above the car park, but hidden from the road.
L'Essargautier 38142 Mizoen
Lat : 45.039
Lng : 6.18512
0 m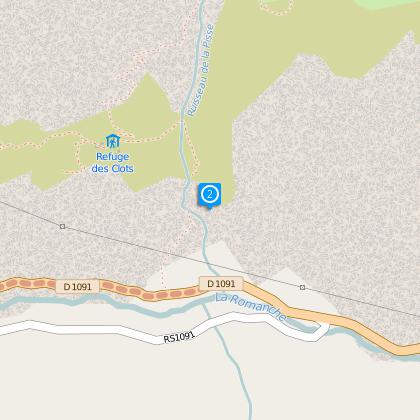 2
Follow the route of the via ferrata.
L'Essargautier 38142 Mizoen
Lat : 45.0415
Lng : 6.18708
0 m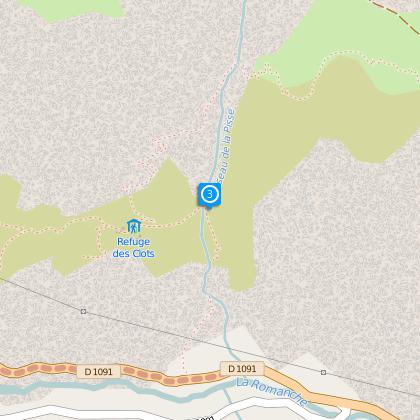 3
Join the Refuge des Clôts by the path.
L'Essargautier 38142 Mizoen
Lat : 45.0441
Lng : 6.18618
0 m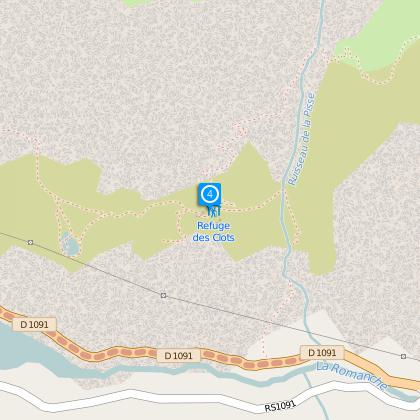 4
From the refuge you can get a via ferrata route designed for downhill or the path down to Parizet through the Lovitel lake.
L'Essargautier 38142 Mizoen
Lat : 45.0436
Lng : 6.18271
0 m