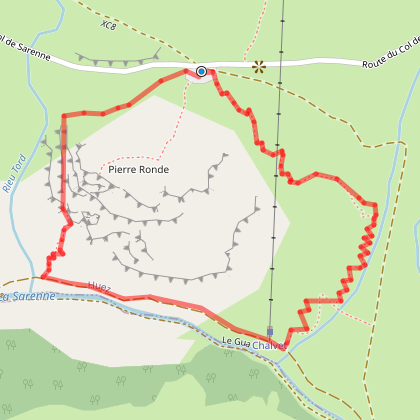 Via Ferrata of Alpe d'Huez, Pierre Ronde site
Two in one! That's what you get with the Alpe d'Huez via ferrata. Two routes are on offer, the 'Découverte' and the 'Sportive', and they're both south-facing!

The "Decouverte", or discovery route, goes off the right and continues onto plateaus and protruding rocks. With the "Sportive", you start climbing straight away, on a lovely, vertical face, followed by quite a long airy slab and some easy protruding rocks. The walk back to the car park takes 5 minutes.

Technical informations :
Time : 3h with walking approach (discovery trail: 2 hours of climbing, fitness trail: 2:30)
Difficulty : PD, D+
Start : 1600 m
Heigh gain : 200 m
Orientation : sud
Period : june > october
Guides, maps : IGN top 25, 3335 ET, Alpe d'Huez.
Les via ferrata autour de Grenoble et Briançon, éditions Glénat.
Toutes les via ferrata de France, éditions Libris.

History: the Brandes mines
Right next to the via ferrata, you can see the Brandes mines, the only archaeological site of
its kind in Europe. The 'argenteria de Brandis' was the largest silver mine in the Dauphiné
region. Silver hunters established the site at Brandes at the beginning of the 12th century
and over the following two centuries a rich seam of silver lead, that was probably linked to the Dauphin mint, was exploited. The mining was carried out at heights of between 1 750 m and 2 800 m and the ore was extracted by heat and with a chisel, in the open air and in galleries. The mine ceased production in about 1330 due to landslides and flooding, which lead to the village being ruined, and subsequently abandoned. The site features a number of archaeological remains that help us to build up a picture of the singular society that was
organized around the mines, including a fortification, a church surrounded by a necropolis,
houses and settlements and mine galleries. The industrial features also give us clues as
to techniques used by the miners, such as the ore processing workshops and the use made of hydraulic power.
1.9 km

max. 1848 m

min. 1599 m

266 m

-266 m

Altimetric profile
Starting point
Route du Col de Sarenne
38750 Huez
Lat : 45.0846
Lng : 6.10083
0 m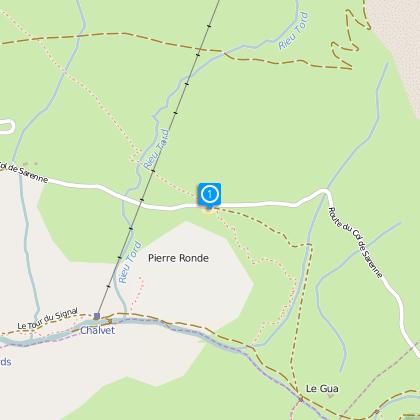 1
Park your car and take the path down into the valley of Sarenne until the start of the via ferrata.
Route du Col de Sarenne 38750 Huez
Lat : 45.0846
Lng : 6.10082
0 m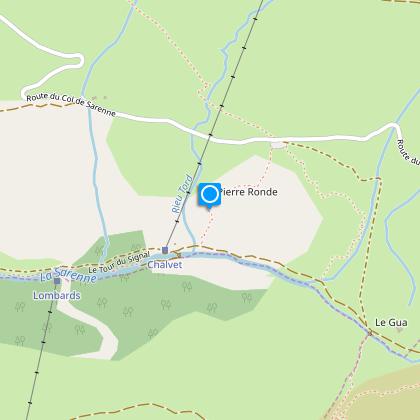 2
To go until the start of the via ferrata, follow the sign on your right.
You are at the foot of Pierre Ronde, below the car park where you arrive in 5 minutes after the arrival of the via ferrata.
Route du Col de Sarenne 38750 Huez
Lat : 45.0826
Lng : 6.09782
0 m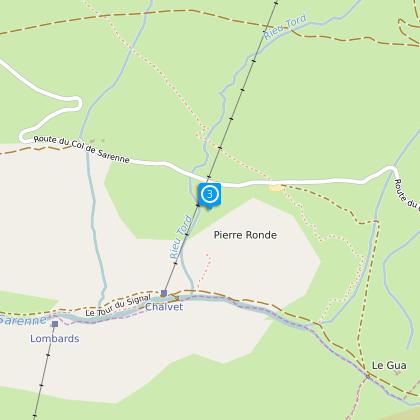 3
Route du Col de Sarenne 38750 Huez
Lat : 45.0839
Lng : 6.09792
0 m