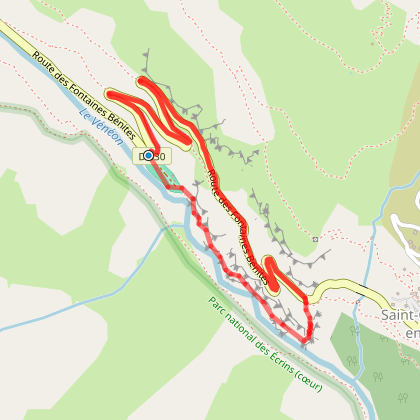 Via Ferrata of Saint-Christophe
The frothing, turquoise blue waters of the Véneon river, an airy, swinging footbridge, a varied and well thought-out route, a few athletic parts, together with some wonderfully exposed sections, make this a classic via ferrata route.

Technical information :
Time : 4h (with the approach walk and walk back)
Difficulty : D
Start : 1200 m
Heigh gain : 500 m
Orientation : south / west
Period : april to november
Guides - maps : IGN top 25, 3336 ET, Les 2 Alpes.
Les via ferrata autour de Grenoble et Briançon, éditions Glénat.
Toutes les via ferrata de France, éditions Libris.

This route gets off to a great start: a small rocky overhang above the turbulent Véneon! You then gain height until you reach a swinging footbridge that looks a bit like a bridge from the depths of Columbia… You pull yourself over a fine rock-step, followed by some slabs, before reaching the road to Saint-Christophe-en-Oisans, and the second part of the route to the Vierge du Collet and Saint-Christophe-en-Oisans. You can then walk down the road back to the car park, but it's better to go down the footpath that leads to the hamlets called Les Granges and Alpe du Pin (turn right after the bridge over the Véneon).

Cultural information :
The legend of the Devil's Bridge Under the bridge that now takes you to Saint-Christophe-en-Oisans is a lovely Roman bridge called the 'Pont du Diable' or Devil's Bridge. Legend has it that this bridge was so difficult to build that the inhabitants of Saint-Christophe became disheartened and thought about giving up the project. A man appeared and offered an edifying deal: to build the bridge in a single night in exchange for the soul of the first person to cross the bridge. This could only be the hand of the devil, but the inhabitants accepted and deliberated throughout the night. In the morning, they sent over a rat chased by a cat… and the devil had to be satisfied with this soul. Duped, he swore vengeance. A cross was built there to protect those who use the bridge and the devil finally left the inhabitants in peace.
5.3 km

max. 1403 m

min. 1197 m

1129 m

-931 m

Altimetric profile
Starting point
Fontaines Benites
38520 Saint-christophe-en-oisans
Lat : 44.9627
Lng : 6.16403
0 m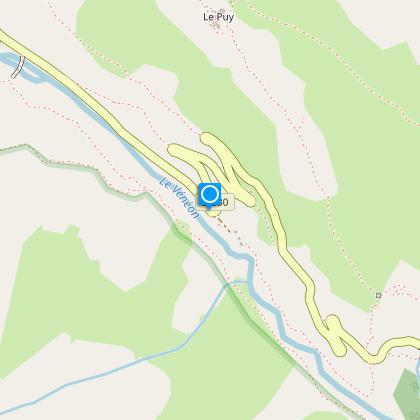 1
Park your car outside the "Base nautique".
Walk into the 'Base nautique' (starting points for rafting). The via ferrata starts near the Véneon river.
Fontaines Benites 38520 Saint-christophe-en-oisans
Lat : 44.9628
Lng : 6.16389
0 m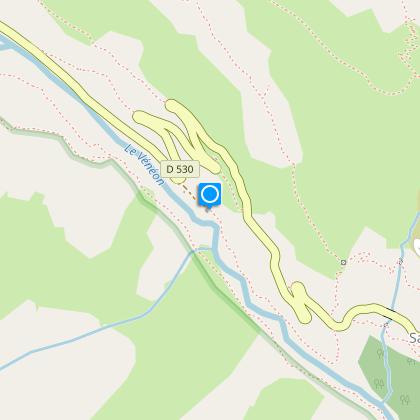 2
The information on the card does not give the possibility to trace the exact route of the via ferrata. Follow the way!
Fontaines Benites 38520 Saint-christophe-en-oisans
Lat : 44.9618
Lng : 6.16539
0 m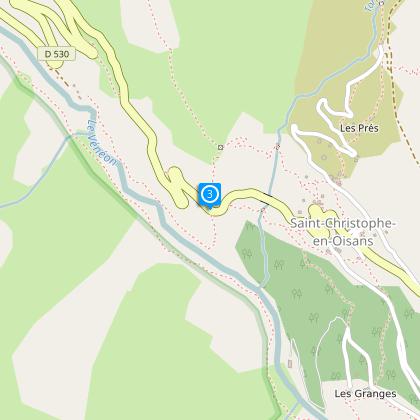 3
Le retour se fait en redescendant par la route. Vous pouvez aussi continuer jusqu'en haut sur le 2ème tronçon qui est plus accessible
D530 38520 Saint-christophe-en-oisans
Lat : 44.9583
Lng : 6.17067
0 m